Notes from the Loop: Michelle in Chicago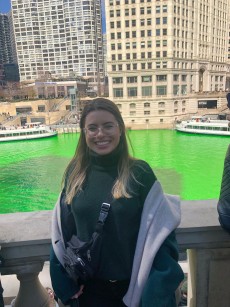 Michelle Kielar '19 is a double major in Neuroscience and Philosophy who is studying in the Loop Program.
My experience living and interning in the vibrant city of Chicago has been a remarkable one. Take for example actually securing an internship which combines each of my passions – science, philosophy, law, and business. As a Medical Ethics Intern at the American Medical Association, I have been able to assist in revisions to the Code of Medical Ethics opinions, participate in AMA Journal of Ethics and Council on Ethical and Judicial Affairs (CEJA) conferences, and experience first-hand how AMA ethics policy is formed. Being on the frontline of various emerging and developing issues in medical ethics has been eye-opening and has further fostered my interests in policy analysis and healthcare law. Throughout my time at the AMA, I have had the pleasure of working alongside incredible doctors, lawyers, medical ethics professionals, editors, and medical students – I even had the honor of meeting the AMA President-elect, Dr. Patrice Harris! 
In addition to interning, I have also taken a Chicago Business and Industry course with Professor Seyk. Our near-weekly trips around the city visiting historic buildings, industry landmarks, and expanding companies ensure that we learn something new about the city with each expedition. Whether learning of the thriving history of Chicago's businesses and architecture, visiting the historic Auditorium Theater and sitting in the suspended seats, or simply learning which buildings you can cut through to escape the unpredictable Chicago weather, this class has encouraged me to continue exploring and learning about the city. 

As I finish up my college career, I am aware how participating in the Loop program has proven to be a valuable transition period between college-life and working-life. I have had guidance and practice in budgeting my finances, learning how to plan meals and strategically grocery shop in order to get the best deals, and how to navigate public transit – all skills that will become applicable very soon. 
I would like to sincerely thank all the donors that make the scholarship fund possible and everyone at the Center for Chicago Programs and the Loop Program for developing such engaging experiences.

If you would like to see some more pictures from my experience in the Loop and all the field trips taken, feel free to take a look at my photoblog: www.michelleable.home.blog.