Neuroscience alumni inspire potential neuroscience majors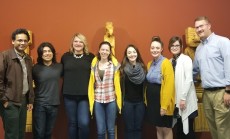 Neuroscience alumni visited campus on Neuroscience Declaration Day to provide information about the value of their overall college experience and the value of majoring in neuroscience.
Alumni who returned to campus were Saul Bello Rojas '16, Alex Hemmer '16, Sydni Cole '12, Alex Roman '16, Kayla Huber '16, and Heather Heitkotter '16. The alumni who returned to campus on October 10 are a handful of neuroscience graduates who have achieved success and created meaningful career paths.