NeuroFrontiers: A Confluence of role-playing students and alumni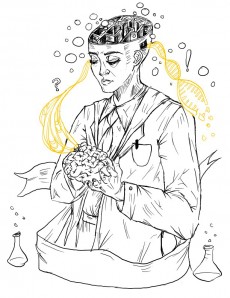 A nationally noted addiction expert (Dr. Marina Wolf) and several alumni will be the highlight of the 14th NeuroFrontiers Workshop on April 25 at Lake Forest College. This workshop celebrates the capstone research projects of five biology and neuroscience courses and the induction of new members of the college's chapter of Nu Rho Psi (the national neuroscience honorary). Seven biology and pschology alumni Dr. Thomas Carr '70, Ph.D., Dr. Nijee Sharma Luthra 04, M.D./Ph.D., Dr. Isaac Holmes '05, M.D., Dr. Arun Paul '05, M.D./Ph.D., Dr. Katrina Brandis '07, Ph.D., Dr. Michael White '07, M.D., and Jaime Perez Pineda '10 will be honored.

What is Nu Rho Psi?
Nu Rho Psi is the National Honor Society in Neuroscience, founded in 2006 by the Faculty for Undergraduate Neuroscience. The Lake Forest College Chapter became the 26th member of this national organization in spring 2012.
Eight current neuroscience majors and seven biology and psychology alumni will be inducted as 2015 members of the society at 4:00 PM:
Emma Levine '18
Junya Li '18
Aasimah Tanveer '18
Logan Graham '17
Ana McCracken '17
Emily Ong '17
Peyton Schrag '17
Ruby Ortiz '16
Dr. Thomas Carr '70, Ph.D.
Dr. Nijee Sharma Luthra 04, M.D./Ph.D.
Dr. Isaac Holmes '05, M.D.
Dr. Arun Paul '05, M.D./Ph.D.
Dr. Katrina Brandis '07, Ph.D.
Dr. Michael White '07, M.D.
Jaime Perez Pineda '10, M.P.O.

What is NeuroFrontiers?
Now in its 14th year, this unique public conference is sponsored by the Biology Department and the Neuroscience Program. It is the non-traditional final exam in advanced neuroscience courses taken by biology, neuroscience and psychology majors their junior or senior year.  On the first day of class, each student was assigned to role-play a world leader in a sub-field of neuroscience. Through the course of the semester, the student researched, read, and synthesized the major papers published by the scientist over his/her scientific career to deeply understand how scientific knowledge accrues over time and how an individual scientist can make important biomedical contributions.  In this process, each student typically read 30-40 articles published over a span 2-3 decades.

During the workshop, each role-playing student becomes the scientist and presents a professional 30-minute seminar on the career length contributions to neuroscience. The student also authors a review article on this topic that is published in the in-house annual NeuroFrontiers journal, now its fourteenth edition.

To make this conference as real as possible, a noted Chicago area neuroscientist is invited to participate in the entire workshop, present his/her own research as the workshop's Keynote Address, and to facilitate scientific dialogue between each role-playing student as they critically integrate individual scientist seminars into the broader context of understanding the complex relationship between brain, mind and behavior and the current challenges and the future of biomedicine.

Over 140 students have participated in this workshop since 1998, with more than a hundred of them headed for or already pursuing careers in biomedicine.

The Fourteenth NeuroFrontiers Workshop, April 25, 7:30 am - 5:15 pm

KEYNOTE LECTURE - 4:20 PM
Dr. Marina Wolf, Chair and Professor of Neuroscience at Rosalind Franklin University of Medicine and Science (RFUMS), will deliver the keynote address. Dr. Wolf received her Ph.D. in Pharmacology in 1986 from Yale University. From 1987-1990, she trained as a Postdoctoral Fellow at the Center for Cell Biology at Sinai Hospital of Detroit.  Dr. Wolf was Assistant Professor of Psychiatry at Wayne State University until moving in 1992 to the Chicago Medical School at Rosalind Franklin University of Medicine and Science.  Dr. Wolf's research on the role of neuronal plasticity in drug addiction has been supported by the National Institute on Drug Abuse (NIDA) since 1992. She presently serves a regular member of an NIH study section and a member of the NIDA Board of Scientific Counselors. Other honors include Phi Beta Kappa, predoctoral and postdoctoral fellowships from NSF, PMAF and NIH, and election as a fellow of the American College of Neuropsychopharmacology. She is Associate Editor for the Journal of Neuroscience.

FULL PROGRAM

Registration: Johnson Bridge: 7:30 AM, Coffee, Juice, Bagels
Introduction: 7:50 AM, Natalie Kukulka '13 & maria Basith '14, Workshop Co-Chairs

Session I: Sensory and Cognitive Frontiers, 8:00 am – 10:00 am
1. Dr. Linda Buck, University Washington,  "1 trillion odors, 1,000 genes,1 nose: The scent-sational mysteries of smell", role-played by  Ms. Kayla Huber '16
2. Dr. David Julius, UC San Francisco, "TRP channels: The ionic gateways for sensing pain, heat, and toxins", role-played by Mr. Peter Nesper '15
3. Dr. Ursula Bellugi, The Salk Institute, "Peaks & Valleys: Gene deletions behind extraordinary Williams Syndrome", role-played by Ms. Andrea Pulido '16  and Mr. Gregory Jamieson '15
4. Dr. Stephen Warren, Emory University, "Fragile X:  An expanded gene, misregulated proteins, intellectual deficits", role-played by Ms. Milagros Tejada '15 and Mr. Cosmo Vivirito '15
Session II: Thesis Frontiers, 10:00 AM - 10:30 AM
5. Ms. Maiwase Tembo '15, "Parkinson's Disease: Three mutants, three stories, one protein"

Session III: Posters I and Lunch, 10:30 AM - 12 noon
BIOL130 Deadly Shapes, Hostage Brains students present three poster-based exhibit presentations on prion disease, Alzheimer's disease, Huntington disease
NEURL346 Molecular Neuroscience students present eight posters on inquiry-based research projects in neuronal cell culture growth and differentiation
Session IV: RNA and Neurodegeneration Frontiers,1:30 – 3:30 pm
6. Dr. Huda Zoghbi, Baylor College of Medicine, "SCA and Rett: Brain diseases of protein imbalance and misfolding", role-played by Ms. Maegan Schultz '15 and Mr. Zachary Sekulich '15
7. Dr. Virginia Lee, University of Pennsylvania, "Three's a Neurotragedy: Consequences of alpha-Synuclein, Tau and TDP43",  role-played by Ms. Ayesha Khan '15 and Ms. Natalie Zemela '15
8. Dr. Gideon Dreyfuss, University of Pennsylvania, "Spinal Muscular Atrophy: Where SMN turns Snrnps and Hnrnps awry", role-played by Mr. Eddi Moravac '15 and Mr. Johnathan Vinkavich '15
9. Dr. Stephen Strittmatter, Yale University, "A Go on NOGO: Promising therapy fro CNS injury and disease, role-played by Ms. Cecilia Reyes '15 and Mr. Yaroslav Voronin '15
Session V: Beta Beta Beta Alumni Career Panel, 2:00-2:45 pm
Dr. Nijee Sharma '04, M.D./Ph.D., Neurologist: Chief Resident, UC-Davis; Future Fellow, UC-San Francisco
Dr. Isaac Holmes '05, M.D., Physician: Chief Resident, Rush; Physician, Bellevue Hospital, New York
Dr. Arun Paul '05, M.D./Ph.D., Radiation Oncologist: Resident, Detroit Medical Center/Wayne State University, Detroit
Dr. Katrina Brandis '06, Ph.D., Director of Research and Upper School Science Teacher: Mary Institute and Country Day School, St. Louis
Dr. Michael White 07, M.D,. Neurologist: Resident, Washington University; Future Fellow, Harvard University
Mr. Jaime Perez Pineda '10, M.S., Orthotist: Hanger Clinic, Hanger Inc., Chicago


Session IV: Posters I and Nu Rho Psi Reception: 2:45-4:00 pm, Johnson Bridge

BIOL362 Mechanisms of Brain Dysfunction students will present  six poster-based exhibit presentations: Epilepsy, Migraine, Schizophrenia, Glioma, PTSD, & Autism
NEUR370 Neuroscience and Behavior students will present  seven posters on group research projects in diverse topics in behavioral neuroscience

NU RHO PSI INDUCTION & AWARDS CEREMONY: 4:00 PM, McCormick Auditorium

KEYNOTE LECTURE 4:30-5:15 PM, McCormick Auditorium
"Harnessing synaptic plasticity to reduce cocaine craving", by Dr. Marina Wolf, Chair and Professor of Neuroscience at Rosalind Franklin University of Medicine and Science (RFUMS).
News Contact
Shubhik K. DebBurman, PhD
Professor of Biology
Chair, Neuroscience Program

Ph: (847)-735-6040
Email: debburman@lfc.edu