Mind coach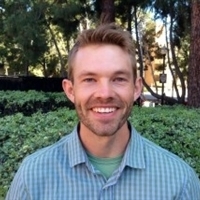 Only a couple of thousand doctors in the world practice sport psychology. Even then, only a few dozen of them are doing it at an elite level, and Adam O'Neil '05 is well on his way to becoming one of them.
For the past three years, O'Neil has been working alongside a leader in the field, Dr. Michael Gervais, founding partner of Los Angeles-based Pinnacle Performance. Gervais is at the top of his game, working with Olympians, elite action sport athletes, and professional athletes including this year's Super Bowl championship team the Seattle Seahawks.
O'Neil's role as a performance psychology consultant is to coach athletes, performers, and executives on how to train their minds to harness the stress and fears that come with their passion. Blending neuroscience with sport psychology, O'Neil first uses electroencephalography (EEG) to "map the brains" of elite performers, and then utilizes mental skills training along with neurofeedback to help his clients tap into their ideal competitive mindset.
"When I work with clients, it is important for me to create a space where they feel both comfortable and challenged. They're reaching for and doing amazing things, and my role is to educate them on psychological skills that help them achieve their goals," O'Neil said. "These athletes trust me with their life story, their fears and goals and dreams, and it's an honor to be a part of it."
O'Neil studied psychology at Lake Forest College and graduated with his master's degree in sport and performance psychology from the University of Denver in the spring of 2011, a school well-reputed for its psychology program.
"It really thrust me into a position where I could call somebody like Dr. Michael Gervais and say, 'I'm moving to your area and I want to work with you. Even if you want me to be a janitor for you, I don't care. How can I link up with you?'" he said.
That phone call led to a try-out for O'Neil, where he had the chance to work with one of Gervais' clients. This progressed into more clients and eventually to working with teams. Today, he's helping to propel the field into the future by testing new methods, such as the use of neurofeedback to help athletes achieve peak performance by learning to self regulate brainwave activity that causes them to feel stressed. The results have been positive and he is excited about the path that is unfolding.
Experiences such as these are not typically had by an individual with only a master's degree, and O'Neil is well aware of that.
"[Gervais] has groomed me well, and he has provided me the opportunity to cut my teeth in the field," O'Neil said. "He's teaching me the nuances of the art of our field, the importance to be grounded as a man and grounded in science, and how to translate that into a business practice that is driven by impact, exciting for all, and is sustainable."
Maybe more importantly, O'Neil is learning how to be a man with a vision.
"You just don't get that in school," he said.
O'Neil is in the market for PhD programs in clinical psychology. It's always been his goal, and now that he has career momentum, the time seems right to advance his clinical skills. It's just a matter of finding the program that fits his life. After all, Adam also has a family; he is married to Forester Lauren Stanton O'Neil '05, and they have two children.
In addition to meeting his bride at Lake Forest College, O'Neil discovered the foundation of his career here.
"I would not have gone into psychology without the faculty mentors I had at Lake Forest," he said. "The psychology professors had this knack for cracking open this door of inspiration that I didn't know I had."
Professors Nancy Brekke, Matthew Kelley, Sergio Guglielmi and Kathryn Dohrmann exposed him to the value of having a strong clinical psychology foundation, which he uses today in his work with clients who "must navigate high-pressure situations in high stakes environments."
"For example, possibly surprising to some, athletes can feel depressed or anxious right after an Olympics," he said. "An athlete works for years and years to work for two weeks, and at the end, regardless of how they did, even if they won the gold medal, there can be the lingering thought: 'Now what?'"
He helps these individuals to find personal value and meaningfulness in their craft using a mindfulness approach, blended with traditional sport psychology tools (e.g., visualization and goal setting).
"It's a really powerful exchange," he said.
To athletes he spends time with, the former Forester hockey player continues to stay active and rely on scientifically validated methods such as meditation, to pull him through his own trials.
"I'm running my first marathon six weeks from now because of a client I work with who is swimming a marathon," he said. "I don't really feel the need to fit into a box, which is why I can connect with these athletes because that's what they're looking for in their life as well. They're looking to do things that might never have been done before, like breaking a world record. When it comes to working at it, I have to live it, otherwise I don't have a real voice in the conversation."
O'Neil looks forward to continuing his work with Gervais, and assuming more responsibilities.
"I can't imagine doing anything else," O'Neil said. "I'm so much looking forward to every minute, every interaction. This is such an exciting field, and I can't believe I found it."
Adam O'Neil can be reached at adam@pinnacle.pro.
News Contact
Kellie Doyle
Assistant Director of Communications and Marketing
doyle@lakeforest.edu
847-735-6177