Meet the 2020 Chicago Brain Bee Champion, Monika Narain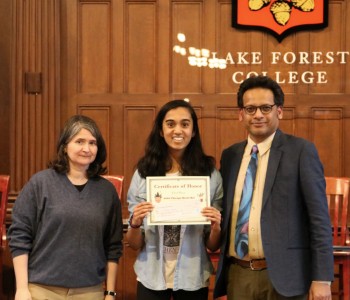 One of last year's ten finalists from Illinois Math and Science Academy, Monika Narain won the First Place Honors at the 2020 Chicago Brain Bee, hosted by Lake Forest College on February 8.
We caught up with Monika after her win and got her reaction:
Q: How does it feel to win the Chicago Brain Bee?
A: This is actually my second time participating in the Brain Bee. The experience is always so much fun and I am super excited to be representing Chicago at the USA Bee in March.
Q: Why did you want to participate in the Bee? 
A: I have always been fascinated with the human brain. I had spent a great deal of time learning about the brain on my own, but was never really able to apply or share that knowledge with my peers, which is the foundation of science and academia. The Brain Bee gave this amazing opportunity, and I am truly grateful for that. 
Q: How did you prepare for the Brain Bee?
A: I had been studying since November, making probably over 500 flashcards doing active learning exercises on my own.
Q: What do you plan to study in college? Do you have plans for a specific future profession?
A: I definitely want to study neuroscience in college with hopes to go to medical school. My dream is to be a neurologist who provides care and training in low income countries.
Q: What advice do you have for high school (and even middle school) students who wish to participate in the Bee?
A: Take the time to read the Brain Facts book. It will not only help you study, but really teach you a lot about yourself and even the people around you.
Related Links: