Meet the 2019 Chicago Brain Bee champion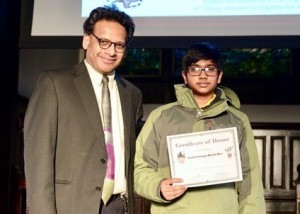 One of last year's finalists Illinois Math and Science Academy student Shouri Bochetty, on his second try, won the First Place Honors at the 2019 Chicago Brain Bee, hosted by Lake Forest College on February 9.
We caught up with Shouri after his win and got his reaction:
Q: How does it feel to win the Chicago Brain Bee on your second try?
A: I was thrilled when I won the Brain Bee competition this year. Last year, I made it to the final round but couldn't make it to the top. I'm glad to see my hard work finally paid off. The other competitors were very strong and it was a challenge to stay on track and win. It was nice getting to see the cool research projects at Lake Forest College and meeting so many like-minded people. I enjoyed looking at the brain and was happy to be able to hold it and look at the different sections live.
Q: Why did you want to participate in the Bee?
A: I have been fascinated by the brain and how it works ever since I was 10-years-old. The puzzling mystery of how such a small organ can do so many tasks intrigues me. My cousin, who's a doctor, inspired me to work in neurology in the future. My first experience with neuroscience was going to the hospital with her and seeing all of the doctors, patients, and all the amazing technologies. Since then, I would always ask her questions about the brain. From there, I started reading and watching videos about the brain. I wanted to participate in the Brain Bee because of my interest in the subject and wanting to hone my knowledge even further.
Q: How did you prepare for the Bee?
A: Initially, I read books and watched videos about the basic structure of the brain to get myself familiarized with it. Also, I read Brain Facts and created a page of notes per chapter. I found it helpful to go to brainfacts.org and read about a concept that I did not understand in the Brain Facts Book.
Q: What do you plan to study in college? Do you have plans for a specific future profession?
A: In college, I would like to study neurology. Specifically, I would like to study neurodegenerative diseases, since my grandfather passed away with one such disease. I would also like to have some clinical experience as well as doing research on modeling malfunctioning pathways in neurodegenerative diseases.
Q: What advice do you have for high school (and even middle school) students who wish to participate in the Bee?
A: My best advice would be to start preparing long before competition day. Brain Facts takes a decent amount of time to go through because it is difficult to understand. I would also suggest that you make your preparation more enjoyable. For me personally, watching lots of videos and just Googling a topic about neuroscience made my preparation more fun. Learning about the brain can be a very rigorous task, as there is so much information. However, if you stay determined, you will be surprised at how much you can learn. My final piece of advice would be to ask for help if you do not understand the material that you are reading. I cannot stress how much this helped me and how much more I learned.