Madhavi Senagolage '12 receives research honors at the Chicago neuroscience conference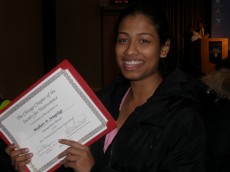 Madhavi Senagolage '12 received the second prize for her conference presentation of neuroscience research entitled "Genetic support for endocytosis as degradation route for alpha-synuclein, the Parkinson's disease protein."
Senagolage presented this work at the undergraduate symposium and competition of the annual meeting of the Chicago Chapter of the Society for Neuroscience (CSFN) at Depaul University.
A biology major, Senagolage presented research that she been conducting since her sophomore year and which will lead to her senior thesis in Associate Professor of Biology Dr. Shubhik DebBurman's molecular neuroscience lab at Lake Forest College. Her contributions completed a long-term five-year collaboration on Parkinson's disease that included Jaime Perez '10, Alexandra Ayala '09, Mithaq Vahedi '08, and Jessica Price '06. Senagolage plans to pursue a PhD in biology after graduation.
"I was surprised to see how many undergraduates were at the meeting presenting their work, which was at first a little intimidating. However, having good background knowledge and also thinking about other aspects of my research prepared me to be a competitive presenter ," says Senagaolage. "Previous experiences at other conferences made me confident in front of the judges and the professionalism required in the scientific field. Having breakfast with the keynote speaker and discussing my future goals was one of the many exciting experiences. Overall, the Chicago Society of Neuroscience conference motivated me to enhance my scientific interests at an early stage as an undergraduate."
The CSFN is the Chicago affiliate of the National Chapter of the Society for Neuroscience and is the largest annual Midwest neuroscience meeting. It is composed of academic and industry-based scientists who are interested the field of neuroscience. This includes researchers, teachers, students and interested public. Undergraduate scholars of neuroscience from colleges and universities in Illinois, Indiana, Michigan, Iowa, Ohio and Wisconsin typically present at this prestigious regional conference, alongside about 300 hundred scientists, post-doctoral fellows, and graduate students.
Five other Lake Forest College students majoring in neuroscience, biology or psychology, also presented posters at the conference, alongside 30 other undergraduate presenters from across the Midwest:
• Pascal Accoh '12, "Periadolescent maturation of cortical interneurons: Role for NMDA receptors", with contributions of Natalie Simak '11 and Daryn Cass '10, Research project conducted as a LFC-RFUMS Summer Research Fellow with Dr. Kuei-Yuan Tseng, Cell & Molecular Pharmacology Department, Rosalind Franklin University of Medicine & Science
• Alyssa Parr '13, "Does aromatherapy affect brain waves and reaction time?" Richter Scholar with Professor Robert Glassman, Psychology Department
• Menzi Mhlanga '11, "The role of the androgenic hormone testosterone on risk-taking behavior in sprague dawley rats",  Senior thesis project with Professor Robert Glassman, Psychology Department
• Natalie Kukulka '13, "Deciphering Parkinson's: Are multiple mutants worse than one?" Richter Scholar with Professor Shubhik DebBurman, Biology  Department
• Alina Konnikova '11, "Evaluating the genetic link between autophagy and Parkinson's disease in yeasts,  Senior thesis project with Professor Shubhik DebBurman, Biology  Department
Lake Forest College sent 45 undergraduates enrolled in Biology 130 Deadly Shapes, Hostage Brains, Psychology 370 Neuroscience & Behavior, and Biology 346 Molecular Neuroscience courses to the conference, and several members of the new neuroscience student organization SYNAPSE attended this conference, which now serves as an annual academic event for the new Neuroscience Program at the college.
First-year student Paula Firmiss '14 states: "As a first-year student attending the conference, I really did not know what to expect, and I was slightly afraid that I might not understand a lot of the lectures. However, after the entire day I was so mesmerized by all of the issues that the scientists were dealing with that I developed a new passion for neurology and really see this field as a possible career for my future."
Adds psychology junior Mira Trebilcock: "The conference provides young undergraduates the opportunity to explore the diversity within the growing field of neuroscience. The variety of work and research presented throughout the day is a great example of the many  advances  being made and the different paths within the field itself. As a junior, the conference illustrates a variety of research opportunities available upon graduation, and continuing throughout professional careers."
A nine-year legacy of undergraduate accomplishment
Lake Forest biology students have won one or more prizes each year for the past nine years of this undergraduate neuroscience research competition in Chicago. The thirteen award winners to date (see list below) have either pursued M.D., D.V.M., Ph.D., or M.D./Ph.D. degrees, or are employed in biomedical research or in K-12 teaching.
"Our science students have built an extraordinary and enviable record of accomplishment over the years at this conference and at others," says neuroscience program chair and Associate Professor of Biology Shubhik DebBurman. "Such sustained success is a strong testimony to the high level of motivation and hard work our students routinely demonstrate towards their scholarship. It also exemplifies our pedagogical approach, which stresses hands-on experiences and articulating communication of it, thereby providing multiple opportunities for students to behave like scientists."
2003
Jillian Hibler '04, 2nd Prize, DVM, Washington State University
Nijee Sharma '04, co-3rd prize, MD/PhD studies (PhD received in 2009) Loyola; beginning MD residency in neurology at UC Davis
Brandon Johnson '03, co-3rd prize, PhD (received 2010) and Postdoctoral fellowship, Stanford University
2004
Isaac Holmes '04, 1st Prize, MD (received 2009) Rush Medical College; MD Residency in cardiology, Rush Medical College
2005
Arun Paul '05, 1st Prize, MD/PhD studies (PhD received in 2010), RFUMS
David Mann '05, 3rd Prize, MD Ross University (received 2010); MD Residency, Medical College of Wisconsin
2006
Michael Zorniak '07, 3rd Prize, PhD studies in neuroscience at University of Wisconsin- Madison
2007
Michael White '07, 2nd Prize, MD studies at University of Buffalo
2008
Stephanie Valtierra '08,  2nd Prize, PhD studies in neuroscience at Northwestern University
Alexandra Ayala '09, Honorable Mention, Math and Science Teacher, Teach for America
2009
Michael Fiske '10, 1st Prize, PhD studies in biology at University of Washington
Ray Choi '09, 3rd Prize, MD studies at University of Colorado
2010
Derek Atchley '10, 3rd Prize, will begin his PhD in cognitive and behavioral neuroscience at Wayne State University in Fall 2011.
News Contact
Shubhik DebBurman Associate Professor of Biology Chair, Neuroscience Program email:
debburman@lfc.edu
Related Links: