Local high school students compete at Chicago Brain Bee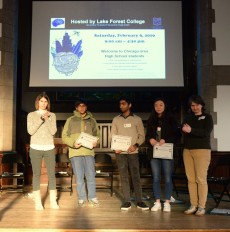 More than 60 students from 18 high schools from the Chicago area participated in the 2019 Chicago Brain Bee that took place on February 9.This marked the third year that the College's chapter of Nu Rho Psi, a national neuroscience honor society, planned the event.
This annual bee is sponsored by the society for Neuroscience Chicago Chapter to test and recognize high school students about their knowledge of neuroscience. 
The day-long event presented the high school students with the opportunity to interact with current Lake Forest students and understand their research and tour the new Lilard Science Center.
Later in the day, the finalists took the stage and competed for their chance at winning the title of 2019 Chicago Brain Bee recipient. This year's bee was thrilling to watch and the participants demonstrated high levels of mastery of brain facts. 
Disque D. and Carol Gram Deane Professor of Biological Sciences Shubhik DebBurman spoke highly of the Liza Mrackova '19 and Yoan Ganev '19,  student leaders of Nu Rho Psi, who prepared for the Brain Bee for months. "An exceptional level of student leadership was portrayed," he said. "They went beyond what academic honoraries typically do nationally."  
Meet the 2019 Chicago Brain Bee champion