Lillard Science Center opens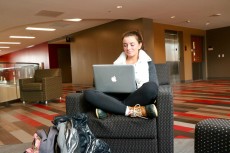 Students were wowed as they walked into the new Lillard Science Center on Tuesday—the first day of classes ever in the new facility.
The new wing offers state-of-the-art classrooms and labs as well as open areas for students to congregate and collaborate—a cornerstone of the interdisciplinary nature of the building. 
Biology major Madison Martell '18 is thrilled to be among the first group of Foresters using the new labs and classrooms. "It's really exciting. Everything is very upgraded. It's impressive to have this facility," she said.
This semester, more than 70 classes and labs will be taught in the new building. Katie Donaldson '21, an environmental studies major, is among the students taking classes in the new Lillard Science Center this spring. "The building is very nice and really well put together," she said. 
Disque D. and Carol Gram Deane Professor of Biological Sciences Shubhik DebBurman taught an 8 a.m. biology class in Lillard on the first day. "I was greeted with an amazing vista of our beautiful Middle Campus from the new seminar-style classroom where my class was held. The students were clearly very excited by the new building and smartly fitted new classrooms," he said.
Even more impressive, DebBurman said, are the new teaching labs on every floor. "They're spacious, contemporary, technologically smart, flexibly-fit with moveable desks. So much interactive, student-led research-driven learning can happen with more ease. I can't wait to see the outcomes of the spring semester courses," he said.
Renovation of the original Johnson A classrooms and labs is under way. The renovation work will be completed by the end of the summer so that the entire 130,000-square-foot Lillard Science Center will open in fall 2018.
Professor Shubhik DebBurman lectures in one of the first classes in the new Lillard Science Center.