Lake Forest psychology grad gets research published right out of college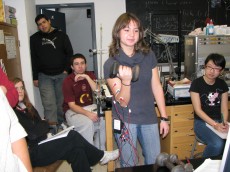 A Lake Forest alumna who took full advantage of her off-campus study program in London and research experience with the College's neuroscience faculty while a student here gets her study published in prestigious journal. 
While Cristina Velasquez '10 studied abroad in London during her sophomore year at Lake Forest through the International Education of Students program, she worked with a team of psychology researchers at University College London. Their study was recently selected for publication in Psychological Science, the science journal of the Association for Psychological Science, and was subsequently picked up by several other media publications. 
The study, "Current Decisions Shape Your Future Preferences," tested the principle that "after you make a choice, you adjust your opinion to think better of the thing you chose." Cristina's team, including Tali Sharot and Raymond J. Dolan, created an experiment that tested people's choices of cities. "If you ask someone how he feels about Athens and Paris, he might rate them the same. But after you make him choose one as a vacation destination, he'll rate that city higher. This is thought to be a way to reduce the psychological tension that is created by rejecting one perfectly reasonable alternative and picking another one."
Velasquez studied with the psychology department while attending Lake Forest. She worked in Professor Robert Glassman's neuroscience lab studying brain waves, and presented a poster with him at the annual Society for Neuroscience meeting last fall. She was also a Peer Teacher in his neuroscience and behavior class. Velasquez now works as a research interviewer at Emory University School of Medicine.