Lake Forest College presents 14th annual Brain Awareness Week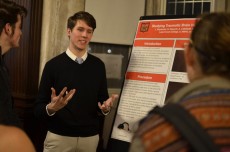 Robotic limbs and touch, the deadly consequences of prion shapes, and a look at how theater can illuminate the intersection between race and neuroscience will be explored during the 14th annual Brain Awareness Week at Lake Forest College, November 6–11.
Highlights of the week include:
"Biological and Bionic Hands: Natural neural coding and artificial perception," by University of Chicago Associate Professor of Organismal Biology and Anatomy Sliman Bensmaia, 4:15 to 5:15 p.m. on Monday in Meyer Auditorium.
"Mad Cows, Cannibals, and Insomniacs: The deadly consequence of prion shapes," by Dr. James Mastrianni, Professor of Neurology and the Director of the Center of Comprehensive Care and Research on Memory Disorder at the University of Chicago, 4:15 to 5:15 p.m. on Tuesday in Meyer Auditorium.
"Brains, Race and Theater," by playwright and author Lydia Diamond, 4:15–5:30 p.m. Wednesday in Lily Reid Holt Memorial Chapel. This event is designed to highlight the interdisciplinary breadth of neuroscience and how it impacts human society particularly through the humanities, arts, and social sciences.
One Flew Over the Cuckoo's Nest, the Academy Award-winning 1975 film in which prisoner Randle McMurphy, played by Jack Nicholson, gets transferred from a prison farm to a mental institution, which he assumes will be a less restrictive environment. But Nurse Ratched, played by Louise Fletcher, runs the psychiatric ward with an iron fist, from 7:30 to 10 p.m. Friday in McCormick Auditorium.
An important component of Brain Awareness Week—educational outreach presentations by Lake Forest College students—will cover a variety of topics, including memory, emotions, language, thought, sexuality, sleep, plasticity, illusion, and perception. The talks will be held from 5:30 to 9 p.m. on Monday, Tuesday, and Wednesday in the Mohr Student Center Balcony and other locations.
In it's 14th year, Brain Awareness Week is a major academic highpoint each fall in the community. "The brain makes us who we are and it is an endless field of knowledge," said neuroscience senior Aly Skoczek '18, Nu Rho Psi co-president one of the program organizers. "During the week, we show others how amazing the brain is."
Rosemary Thomas '18, Synapse co-president and lead organizer, notes that the week includes presentations on current research completed by students and others active in their respective fields. "Brain Awareness Week shows that research on the brain is always ongoing and that there are so many mysteries that still need to be uncovered," she said. "The discoveries already found will serve as a foundation to show that there is always hope for the future when it comes to health and mental well-being."
This year's Mind and Society Dialogue has a particularly topical twist that highlights how the brain matters outside science and is connected to the arts. "This year's lecture on Wednesday afternoon by playwright Lydia Diamond is especially relevant now, given national conversations on race relations in our society, as she will discuss the brain, race, and theater," Disque D. and Carol Gram Deane Professor and Chair of Biology Shubhik DebBurman said.
The fifth annual Robert B. Glassman Memorial Brain, Mind, and Behavior Symposium, in honor of the late professor of psychology who played a leading role in developing the popular neuroscience major at the College, will take place on Thursday. The symposium will feature poster presentations by more than 50 students and alumni from 5 to 6:40 p.m. followed by interdisciplinary faculty talks on music and the mind, abnormal neuronal activity in epilepsy, visualizing the retina in 3D, imagination and the plague in Shakespeare's theater, and a theatrical look at the tangles of dementia, from 6:50 to 8:30 p.m. in Lily Reid Holt Memorial Chapel.
Brain Awareness Week will wrap up with "Mind Mysteries of Sean Bott," one of the country's best-known mentalists, at 8 p.m. on Saturday, in the Mohr Student Center.
"Brain Awareness Week is a uniquely student-driven week that attracts over 1,000 community participants and features the academic work of over 100 students," DebBurman said. "It takes months to organize and is a wonderful example of interdisciplinary faculty-student collaboration that spans multiple departments and programs that ferments best at liberal arts colleges."
All events are free and open to the public. Lake Forest College is located at 555 N. Sheridan Road in Lake Forest. For more information, visit www.lakeforest.edu/communityevents.
Related Links: