Lake Forest College honors students at Leadership Awards ceremony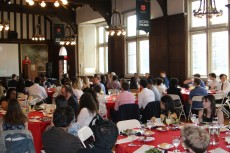 Students and faculty gathered to honor exceptional students for their accomplishments at the annual Student Leadership Awards in the Calvin Durand Lounge on April 30.
At the ceremony, the following awards were presented:
Foster G. McGaw Scholars: Chisomo Mwale '19, Hakob Parsamyan '20, and Jan Roessler '21. Provides scholarship assistance to talented students who have demonstrated leadership ability and achieved academic excellence. 
Edward H. Oppenheimer Memorial Prize:  Lauren Bell '18 and Jakobi McClellan '18. Recognizes two seniors who are judged to have contributed the most to the College community. 
 Alpha Sigma Kappa Class of 1938 Memorial Prize: Allie Widmer '18. Awarded to

 a senior student who has sustained a 3.4 cumulative GPA, has participated in at least two co-curricular activities on campus, and has exhibited a strong commitment to community service while a student at the College. 

Jacob Wardwell Edwards Prize:  Blessing U. Okeke '21. Recognizes the outstanding qualities of leadership demonstrated during their first year at the College. 
Peter C. Clute Award for Outstanding Character: Arun Pookote '18. Awarded to student

 whose uniquely positive attitude and joy in living inspires and enhances the lives of those around him or her. Selected by Lake Forest College Student Affairs staff in consultation with students.

Rising Star Award: Taylor Moore '21. Presented to a first-year student who has shown tremendous growth over the past academic year and is an emerging leader in the College community, who has been an active member of at least one registered student organization, and who maintained a minimum cumulative GPA of 2.75.
Best Marketing Effort Award: UMOJA, an African awareness group that aims to educate the student body about the different African cultures.
Charles F. Behling Award: Luz Rodriguez '18. Awarded to an individual student or student organization that exhibits outstanding commitment to the promotion of cultural diversity.
Anita Chen Li '51 International Student Prize: MP Zwane '18. Awarded to an international student who has exhibited exceptional academic achievements and involvement on campus. 
Christopher Mojekwu Award: Associate Professor of English Judy Dozier 
Social Justice Award: Kanoe Montaño '18. Presented to a student or a student organization that has shown a concern for underrepresented groups and has improved the lives of others with regard to social justice issues such as race, religion, sexual orientation, socioeconomic background, nationality, and gender.
Tamara Lee Wefler Award: Ashley Lamarre '18. A

warded annually to the senior whose independent spirit has encouraged the acceptance of a diversity of values and beliefs within the student body; whose inspiration and enthusiasm have promoted the highest standards of character and integrity in others; and whose actions have consistently demonstrated a sensitivity for and an interest in the welfare of others. 

Make a Difference Award: Maham Mansoor '18.

 Presented to individuals who have demonstrated a strong commitment to helping others and to community service. 

Commitment to Campus Well Being Award: Michael Roy '18. R

ecognizes the student who has made the most outstanding contributions to promoting the health and wellness of Lake Forest College students and our campus community. 

Community Builder Award: Alexander Sheppard '20. A

warded to an individual who has made outstanding contributions toward building a strong campus community. This student will have been a positive, motivating role model on campus for other students. They will have worked to link fellow Lake Forest College students more closely with the campus fostering a continuous positive environment of the campus community.

Student Organization Advisor of the Year Award: Raymundo Juarez (Latinos Unidos). P

resented to the faculty or staff member who has served as an official advisor to a registered college student organization and has gone above-and-beyond his or her duties to ensure the organization's success.

Commitment to Student Development Award: Elizabeth G. Snider. Presented to an outstanding faculty or staff member who has fostered an environment of student development throughout the academic year. 

The recipient will have challenged students to step outside their comfort zone and learn about themselves and the Lake Forest College community through knowledge and understanding. The recipient will have set clear and ambitious standards for students to aspire towards.

Outstanding Program of the Year Award: TedX
Collaborative Effort of the Year Award: Latin American Coffee and World Tea Tasting—sponsored by Latinos Unidos and International Student Organization
Student Organization President of the Year Award: Morgan Malte '19 (Panhellenic Association)
Student Organization of the Year Award: South Asia Student Association 
Student Leader of the Year Award: Altin Kukaj '19. P

resented to a person who, through their leadership skills and initiative, has made a significant impact on the Lake Forest College community over the past academic year and demonstrated examples of outstanding service to others and within the community. 
 The 2018–19 Senior 25:
Susie Baca '19
Jacob Badagliacco '19
Arnold Boros '19
Cade Brittain '19
Paris Burton '19
Edward Cleary '19
Lindsay Cohen '19
Nouha Ezouhri '19
Bruce Holtman '19
Dean Jepsen '19
Altin Kukaj '19
Morgen Malte '19
Chisomo Mwale '19
Alexis Nogulich '19
Katherine Nolte '19
Alexander Orr '19
Noel Orwothwun '19
Carter Ostrander '19
Ayesha Quraishi '19
Kiana Porter '19
Abigail Samuelson '19
Keara Schweiger '19
Robert Simovic '19
Mason Wallis '19
Anastasia Wrenn '19