Jeanne McDonald '19 wins Goldwater Scholarship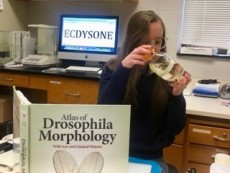 Biology major Jeanne McDonald '19 has been awarded a prestigious Barry Goldwater Scholarship for undergraduate excellence in the sciences—a first for Lake Forest College. Neuroscience and chemistry double major Yoan Ganev '19  received an Honorable Mention.
"I was really shocked when I found out I won," McDonald said. "I didn't think I would get it. It's exciting to have my research recognized like that."
McDonald, who also won first place in the poster competition from the
Jeanne McDonald
Society for Integrative and Comparative Biology earlier this year, is grateful for the recognition by the Goldwater Foundation.
"This is the most prestigious undergraduate prize in science, engineering and mathematics awarded in the USA, and is unbelievably competitive," said Associate Professor of Biology Alexander Shingleton.
McDonald's ultimate career goal is to get a PhD in evolutionary biology and then teach and conduct research at a college. She credits the many research opportunities she's had at Lake Forest College—most notably with Assistant Professor Flavia Barbosa, Foster G. and Mary W. McGaw Professor in the Life Sciences Anne Houde, Associate Professor Sean Menke, and Shingleton—with successfully finding the right fit for her career.
"There are so many research opportunities at the College," she said. "I feel like I've had a lot of support from faculty and I'm really grateful for that."
Named for statesman Barry Goldwater, the scholarship is among the most competitive honors in the country for undergraduates in the
Research presentation in San Francisco results in top honor