Jeanette Trang Fulfilling Her Dream Career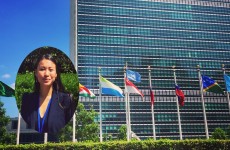 Jeanette recently relocated to New York City, where she has a one-year volunteership with the Child Protection Section in their Programme Division of the United Nations Children's Fund (UNICEF). 
Jeanette, fluent in Cantonese, Swedish and English, graduated with a double-major in Chinese Studies and international relations in May of 2015.  Her two-credit honors thesis sketches a unified theory of human rights that draws upon the philosophical traditions of the East and the West. Jeanette spent one academic year in China, where she participated in Lake Forest College's semester-long, off-campus study program at Peking University and, as the recipient of academic scholarship from the Chinese government, studied Mandarin the following semester at Xiamen University.  
With the supervision and guidance from other colleagues in the Social Norms and Protection of Children from Violence team, Jeanette supports the implementation of a Global Programme to Build Capacity to Tackle Online Sexual Exploitation, and other programmes related to violence prevention and response and Child Protection. 
News Contact
Professor James Marquardt
847-735-5126