Internships that pay off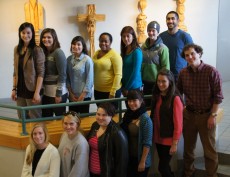 In the Department of Psychology, students aren't required to complete an internship, but like many other competitive psychology majors, Colin Willis '13 knew it was important to get a few under his belt while working on his undergraduate degree.
Willis, who will start a PhD program in industrial/organizational psychology at Colorado State University this fall, double majored in psychology and linguistics, an independent scholar program he designed for himself.
"It made sense to start applying my knowledge and skills as soon as possible," Willis said. "Internships gave me the networking, professional, and research experience I needed to get a job out of college and into graduate school." 
Assistant Professor of Psychology Kathryn Dohrmann, who supervises psychology and clinical neuroscience interns, connected Willis with a research internship at Feinberg School of Medicine, Northwestern University.
"This was an opportunity to work on an actual, publishing research team as an undergrad," Willis said. "It was an incredible opportunity."
He analyzed data pertaining to community perceptions about medical research while working on the NU health equity research team. When his time as an intern ran out, they hired him as a research assistant to finish writing the paper, all while he studied abroad in New Zealand.
His research paper entitled, "Leveraging a Community-Based Research Approach to Explore Research Perceptions Among Suburban Poor and Underserved Populations," will be published in an upcoming issue of the Journal of Community Engagement and Scholarship.
But Willis was really interested in industrial/organizational psychology, so he forged the College's first internship with ComPsych, the world's largest supplier of employee assistance programs.
After hearing Dr. Richard Chaifetz, founder and CEO of ComPsych, speak at a Gates Center leadership event, Willis knew he wanted to intern for him, but the company did not have an internship program. So he created his own!
"I had a need I wanted to fill, specifically gaining experience in an industrial/organizational psychology related area, so I sought out the place I thought would help me the most and made it happen," he said.
With some assistance from President Steve Schutt, Professor Dohrmann helped establish the relationship that got Willis's foot in the door.
At his internship, Willis performed a qualitative analysis of customer complaints. He ultimately presented his findings to the company's vice president of quality. 
Willis left such a strong impression at ComPsych that they've accepted another Lake Forest College student to intern there this summer.
"The people I worked with were wonderful," he said: "They trusted me with a real project and in turn I returned to them real results - I was able to make an impact. As a result, I have a network of contacts at ComPsych that has been invaluable in my professional career." 
Willis currently works full-time at Walgreens corporate headquarters in Deerfield, Illinois as a proposal coordinator. He writes bids for new business, performs geographical analyses of store locations and competitive intelligence analyses.
And he credits his success to the support he received from Lake Forest.
"I wouldn't be where I am without my advisers, Professor Brekke and Professor Garneau, as well as Professors Dohrmann and Guglielmi and the rest of the faculty in the psychology department."
News Contact
Lindsey Nemcek
New Media and Marketing Coordinator
847-735-5019
nemcek@lakeforest.edu
Related Links: