International neuroscience conference offers premier learning opportunity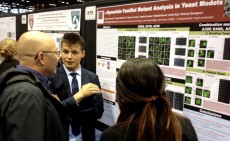 Nine neuroscience students, including several Richter Scholars, attended Neuroscience 2015—the world's largest marketplace of ideas and tools for global neuroscience— in Chicago.
Charles Alvarado '16 and Morgan Marshall '16 presented their undergraduate senior projects on Parkinson's Disease at the 45th annual event, which drew 30,000 colleagues from more than 80 countries.
At its science education session, Lake Forest students highlighted the neuroscience curriculum's innovative integration of public education, peer learning, and K-6 outreach.
The annual meeting is the premier venue for neuroscientists to present emerging science, learn from experts, forge collaborations with peers, explore new tools and technologies, and advance careers.