In the spotlight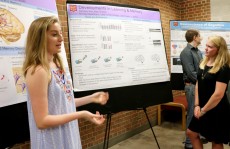 Students in the Our Amazing Brain class wowed the crowd during a symposium and poster presentation that showcased key neuroscience questions tackled during the four-week June summer course.
Split into four teams, the students—including high schoolers already racking up college credit, incoming transfer students, and current Lake Forest College students—shared their findings on four main topics about the brain: emotions, thought, memory, and sleep. 
Transfer student Katy Shadek '20 worked with Kennedy Kerr, a high school student from Lake Forest, on memory and learning. Both found their first foray into neuroscience to be interesting—and fun.
"I took psychology, anatomy, and science classes in high school and at my previous college, but neuroscience ties them all together," Shadek said. 
Kerr enrolled in the summer term at Lake Forest College to get a jump on her college credits. "Some of my friends were doing camps at colleges this summer, and I decided I'd rather get college credit for it," she said. 
Professor of Biology Shubhik DebBurman thanked the presenters and guests at the conclusion of the hourlong symposium, which was held on Wednesday, July 5. 
"By teaching in the summer session, I thoroughly enjoy the opportunity to help non-science majors appreciate the significance and impact of science in their daily lives," DebBurman said. "It is important for liberal arts students who do not intend to be science professionals to not shy away from science, rather they should embrace it as educated citizens of the 21st century."
Related Links: