Hours clocked in science labs give students edge when applying to graduate, medical schools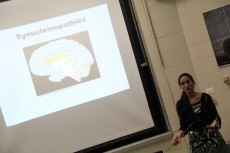 Many first-year students who begin as Richter Scholars in the sciences continue working in the labs throughout their studies at Lake Forest College and complete their senior theses with the same professor who served as their Richter advisor.
For some Richter Scholars, the research program for first-year students is more than a 10-week experience. Many cannot pull themselves away from their work when the summer commitment ends.
Khadijah Hamid '16, who began research on Parkinson's disease as a Richter Scholar this summer, is one of those students. The neuroscience and biology double major, who aspires to enter the medical field, has hopes of continuing her experiments next summer. 
"Once you get started, it's hard to not want to continue," Hamid said. "You can't just leave it in the middle and not know what's going to happen with the work you did."
Professors Karen Kirk and Shubhik DebBurman "have a long history of students starting as Richters and completing their senior theses" in their labs, said DebBurman, professor of biology and neuroscience program chair.
These students benefit from learning a range of techniques throughout their years here — one thing that differentiates Lake Forest College from other institutions that only expose students to one or two techniques, Kirk said.
"This multi-year commitment to an original scientific problem equips students with a superior skill-set that sets them apart for success in graduate school and the medical professions," DebBurman said.
Tyler Kaplan '16, a biology major with a chemistry minor, studied DNA in Kirk's lab this past summer and recognizes how his work there might impact his long-term goal of becoming a doctor.
"When people are looking at my resume they'll see that I'm someone who can think critically, who can problem solve, and who can work with other people in a lab," he said. "Those are similar qualities and traits that a doctor needs."
Walk into DebBurman's lab on the second floor of the Johnson Science Center any day of the week during the summer, and a visitor will see ten or so students working in white lab coats and goggles. Six or seven of them will be upperclassmen conducting independent experiments related to Parkinson's disease while also mentoring their younger peers; the rest will be Richter Scholars, like Hamid and Maribel Munoz '16. 
The first five weeks of their experience in DebBurman's lab involved becoming familiar with the space and its tools. From there, they branched off into their own projects. Munoz said she appreciated learning in a safe place where it was OK to make a mistake. She also enjoyed working with her student mentors.
 "I know I definitely want to continue doing research, and I know I want to do a science-related senior thesis," said the neuroscience major with minors in chemistry and biology.
Because this summer primarily was dedicated to creating tools and conducting preliminary experiments, Hamid is looking forward to really delving into her research next summer.
 "Professor DebBurman is very challenging, but I feel so well prepared whenever I'm with him. He's always passing along his knowledge," Hamid said. "I'm definitely hoping to work with him for my senior thesis."
News Contact
Kellie Doyle
doyle@lakeforest.edu
847-735-6177