Helen Bond receives Jack Benny Award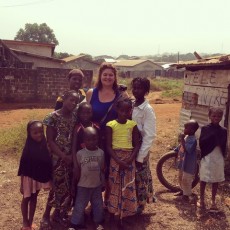 Lecturer in Music Helen Bond was honored with the 2015 Jack Benny Arts and Humanities Award as a percussionist, teacher, storyteller, and humanitarian who works to bring clean water to people in Guinea, West Africa.
Bond performs and teaches classes in West African percussion for children and adults in the Chicago area, including regular workshops at the Jack Benny Center for the Arts in Waukegan. Bond also co-founded a non-for-profit organization, Motherland Rhythm Community's Benkadi Project, after visiting Guinea to study traditional hand drumming and seeing firsthand that her help was needed.
The Benny Award is given annually to a Waukegan-area artist or art supporter whose efforts have had a positive impact on the arts and arts education in Waukegan, Benny's hometown.