Graduates get Parkinson's disease research published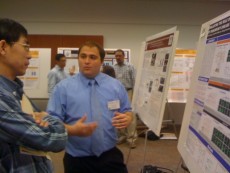 Eight biology alumni recently published two articles in scientific journals Parkinson's Disease and ISRN Neurology culminating six years of undergraduate research conducted at Lake Forest.
Michael Fiske `07, Stephanie Valtierra `08, Keith Solvang `11, Michael Zorniak `07, Michael White `07, Sara Herrera `05, Alina Konnikova `11, and Rebecca Brezinsky `11 researched the proteins that cause neurodegeneration in Parkinson's disease while students at the College.
The two articles are titled "Familial Parkinson's Disease Mutant E46K α-Synuclein Localizes to Membranous Structures, Forms Aggregates, and Induces Toxicity in Yeast Models" and "Contribution of Alanine-76 and Serine Phosphorylation in α-Synuclein Membrane Association and Aggregation in Yeasts." The group studied the disease using yeast models with Professor Shubhik DebBurman.
"These yeast studies extend our understanding of serine phosphorylation and alanine-76 contributions to α-synuclein aggregation and are the first to detail their impact on α-synuclein's plasma membrane and endomembrane association," reads the abstract.
The students combined their senior theses research and comprised the two manuscripts. All eight students have presented their research in at least one national meeting, including two Gordon Research Conferences, and they all won either first or second prize. The research has been funded by national grants, including support from the American Recovery Reinvestment Act Funds. Six of the eight students have gone on to pursue their MDs and PhDs.