Glassman's daughter honored speaker at symposium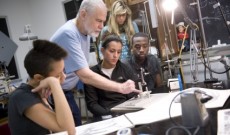 The second annual Robert Glassman Symposium will include a special presentation by his daughter, Dr. Jill Glassman.
Dr. Glassman is a senior research associate at ETR in California. She will deliver a talk titled, "Lying About Sex in Early Adolescence: Cause and Consequence" during the Robert B. Glassman Memorial Brain, Mind, & Behavior Symposium, which will be held from 5:30 to 8:30 p.m. on Thursday, November 13.
Robert Glassman, a former psychology professor at the College, died in the spring of 2013.
The symposium is a highlight of the College's award-winning 11th annual Brain Awareness Week on campus Monday, November 10 through Saturday, November 15.
The Glassman Symposium will begin with poster presentations by students and alumni from 5:30 to 6:45 p.m. in the Center for Chicago Programs, followed by interdisciplinary faculty talks on dementia, slight of mind, glial cells, religion and the brain and Glassman's daughter, from 6:45 to 8:30 p.m. in the McCormick Auditorium.
"As far as I can remember, Bob Glassman has been the greatest champion for neuroscience at Lake Forest College," Lake Forest College Professor of Biology Shubhik DebBurman said. "It was his vision to teach neuroscience to students and the community. I think he would appreciate how we have honored him."
The Glassman Symposium and all Brain Awareness Week events are free and open to the public.
News Contact
Linda Blaser
Manager, News and Media Relations
847-735-6177
blaser@lakeforest.edu