Fruit flies grow fast!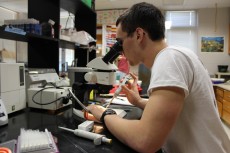 Richter Scholars James Haney '17 and Lauren Lyon '17 have spent their 10-week research experience helping Associate Professor of Biology Alex Shingleton determine how juvenile hormone (JH) might influence development in Drosophila melanogaster, or fruit flies.
For their part, Haney and Lyon had to learn how to dissect the tiny insects by carefully removing their wings, legs and other organs. They also had to learn how to use equipment to measure organ size at each stage of development, from larval to adult. The goal is to determine how manipulated levels of JH in fruit flies affects the growth of their organs. Fruit flies are the ideal subject for this research, Lyon says, because they are inexpensive and their reproductive phases are short.
Both biology majors, the Richter research team says dissecting hundreds of fruit flies has taught them that research takes time, repetition, and patience.
Lyon, who hails from Las Vegas, Nevada, and Haney, a Chicago native, said Shingleton's Richter proposal attracted their interest for a few reasons. For one, they already have plans to pursue senior theses and were looking to invest themselves in a longer term project. For two, they both are considering careers in biology or the medical field. For three, it meant getting to work with Shingleton, who "takes a personal interest in us," Lyon said, and has developed a reputation in his line of research. In fact, he and his teammate Christen Mirth from Instituto Gulbenkian de Ciência recently were published by the leading science journal Proceedings of the National Academy of Sciences for their work with fruit flies.
Haney pointed to the camaraderie among the students researchers in Shingleton's lab – and the friendly rivalry they have with students in Professor of Biology Shubhik DebBurman's lab across the hall - as another reason why he has enjoyed his time as a Richter Scholar.
News Contact
Kellie Doyle
Assistant Director of Communications and Marketing
doyle@lakeforest.edu
847-735-6177
Related Links: