Fourteen science majors tapped as 2011 Lake Forest College-RFUMS Summer Fellows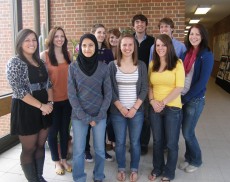 Fourteen Lake Forest College science majors will begin conducting summer research in May in a variety of medically related areas, including cell and molecular pharmacology, neuroscience, cell biology and anatomy, biochemistry and molecular biology, and physiology and biophysics, through a special partnership with Rosalind Franklin University of Medicine and Science (RFUMS).
This unique research collaboration between a liberal arts college and a medical school began in 2009 and it offers exclusively the paid opportunity for Lake Forest students to work with faculty and students at RFUMS labs during the summer, and continue this research during the academic year through academic credit based internships.

Associate Professor of Biology Shubhik DebBurman, who coordinates this program at the college's end, notes that it has been wildly successful since it began in 2009. Over 30 science majors, including seven first-year students, have benefited from this program garnering significant research training that provides them an enviable professional edge and the support of additional scientific mentors, as students plan out their future careers. Some students who participated last year already have won professional recognition at scientific conferences  such as the Great Lakes Chapter of the American Society of Pharmacology and Experimental Therapeutics (GLC-ASPET) and the Chicago Society for Neuroscience meeting and have become authors on major scientific publications for the work they conducted through this program. Some graduates have already headed for medical school, physical therapy, optometry, and PhD programs.

The 2011 class of LFC-RFUMS summer fellows is the largest to date and includes undergraduates majoring in biology, chemistry, neuroscience, and psychology, and includes three first-year students. These students are researching topics that vary from neural networking, learning and memory, emotional and stress disorders, Schizophrenia, Parkinson's disease, Alzheimer's disease, spinal muscular atrophy, cancer, enzyme biochemistry, and the biology of addiction. Unprecedented, all six seniors this year are conducting senior thesis research in biology or neuroscience. All fellows are planning for post-graduate scientific careers, with several heading for MD and PhD programs.

RFUMS professor of Cell and Molecular Pharmacology Dr Amiel Rosenkranz, who previously mentored two psychology majors (Emily Venheim '09 and Derek Atchley '10) for their senior theses, is currently directing two senior theses in 2011-2012, mentoring neuroscience and psychology senior Kristi Johnson '12 and biology and secondary education senior Shabana Yusufishaq '12.  Rosenkranz states: "I have participated in this program because the Lake Forest College students have been great to have in the lab, and have even managed to produce novel, interesting findings over the relatively short summer internship. I think this partnership benefits both LFC and RFUMS: the students get access to a wider range of research opportunities, and we at RFUMS get the opportunity to have new, productive researchers in our lab. Without exception, the LFC students that have worked in my lab have been excellent. They have all been conscientious, hard-working and bright. It has been a pleasure having them in the lab."

Yusufishaq '12, who has worked in two different RFUMS research labs the past two years, has already begun her senior thesis work this spring, and she reciprocates: "I think that I have been lucky in that I have had the opportunity to experience two different labs, in two different disciplines. This allowed me to get a better sense of my preference when it comes to lab research. In addition, both labs experiences provided me with a sense of independence because I was able to work through all the steps of the methods. One of the labs in particular even granted me the freedom to design my own experiment, allowing me to feel an even greater connection to my work."

Kristi Johnson '12 too has worked with two different RFUMS faculty mentors and is starting her thesis in a couple of weeks. She states: "Having done research as RFUMS before, I knew I wanted to apply for my thesis work there.  The opportunity provides a small welcoming community that has great facilities and labs to work in.  You can really get a personal experience that allows for many opportunities to develop a project that you are truly passionate about."

This program has nearly doubled the number of Lake Forest students who engage in life sciences research. DebBurman adds: "Undergraduate research is well documented in the science education literature as one of the most important career developmental and pedagogical facets of a 21st-century undergraduate curriculum. With newly added majors to our curriculum in Neuroscience and Biochemistry and Molecular Biology, the importance of providing additional research training access is even more critical. With the help of this summer program, our new neuroscience program has placed more than half of its over 20 declared majors into research opportunities in the first year itself. To meet student demand and interest, especially in neuroscience, we plan to start similar partnerships with other interested medical schools in the Chicago area".
Dr. Michelle Hastings, Assistant Professor of Cell Biology and Anatomy at RFUMS, and research mentor of several Lake Forest students (Paige Keasler '10, Daniella Brutman '12, and Ashley Reich '13) further emphasizes: "One important strength of this collaboration is that Lake Forest has great students and the faculty help to identify individuals that are well-suited to do research. RFUMS gives college students the opportunity to work in a research lab outside of the college itself. This increases the number of research areas available for students to pursue and also provides research opportunities to a greater number of students. Of course the close proximity of the two locations is a very big benefit."

The full list of student researchers, their faculty mentors and their research topics:

Class of 2011 LFC-RFUMS Summer Fellows:
Pascal Accoh '12 (Mentor: Drs. Kuei-Yuan Tseng, Cell & Molecular Pharmacology)
Kayla Ahlstrand '12 (Mentor: Dr. Beth Stutzman, Neuroscience)
Kristina Johnson '12 (Mentor: Dr. Amiel Rosenkranz, Cell & Molecular Pharmacology)
Shabana Yusufishaq '12 (Mentor: Dr. Amiel Rosenkranz, Cell & Molecular Pharmacology)
Daniella Brutman '12 (Mentor: Dr. Michelle Hastings, Cell Biology & Anatomy)
Pete Sullivan '12 (Mentor: Dr. Anthony West, Neuroscience)
Jody Buck '13 (Mentor: Dr. William Frost, Cell Biology & Anatomy)
Dillon Gilbow '13 (Mentor: Dr. Ronald Kaplan, Biochemistry & Molecular Biology)
Gaelle Hollandbeck '13 (Mentor: Dr. Dmitri Boudko, Physiology & Biophysics)
Ashley Reich '13  (Mentor: Dr. Michelle Hastings, Cell Biology & Anatomy)
Kaila Stephens '13 (Mentor: Dr. Rachel Greenley, Psychology)
Rabia Khan '14 (Mentor: Dr. Kuei-Yuan Tseng, Cell & Molecular Pharmacology)
Sohail Khan '14 (Mentor: Dr. Dmitri Boudko, Physiology & Biophysics)
Lani Leong '14 (Mentor: Dr. William Frost, Cell Biology & Anatomy)

Lake Forest College is a national liberal arts institution located 30 miles north of downtown Chicago. The College has 1,400 students representing 45 states and 69 countries.
News Contact
Dr. Shubhik DebBurman, Associate Professor of Biology
Cordinator, LFC-RFUMS Summer Fellows Program
email:
debburman@lfc.edu
Related Links: