Foresters helping Foresters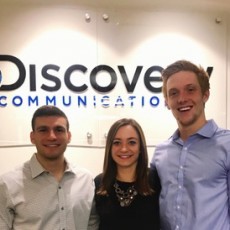 One tradition at Lake Forest College that is held in high regard is the tradition of giving back and helping others. One Forester who depicts this tradition perfectly is women's basketball alumna Danielle Canulli '15.
Canulli found her way to a career at Discovery Communications through the Forester network and then, via the Forester Game Plan, played a role in the hiring of Lake Forest College alumni soccer players Tim Mourikes '16 and Bjorn Trail-Johnson '17.
In Canulli's junior year, she attended Speed Networking, an event hosted by the College's Career Advancement Center where students meet with professionals from a wide range of organizations. There, Canulli met an executive of Rolling Stone Magazine, Forester men's basketball alumnus Joe Hoffer '88, who suggested she would be a great fit for an advertising internship. After five rounds of interviews and a PowerPoint presentation, Canulli was offered the position.
While attending a Rolling Stone Magazine event during the last week of Canulli's internship, she met Lake Forest College alumna, Crystal Gorman '14, who worked at Discovery Communications. At the time Canulli had another semester to complete, but informed Crystal that she would be interested in working for the company after graduation, should there be an opening. One week away from graduation, Canulli received a phone call from Gorman who informed her that there was a vacant advertising sales position. In short order, Canulli earned the opportunity.
Fast forward a few months, Canulli is settling in to her new role at Discovery Communications when she learns that a classmate and member of the men's soccer team, Tim Mourikes, was actively searching for a job. Having been in many of the same classes, Canulli knew the strength of Mourikes' skillset and asked him to send along his resumé, which she promptly forwarded to the vice president. With a strong resume and Canulli's recommendation, Mourikes secured a position at the company.
The spirit of paying it forward did not end there. This past year, Bjorn Trail-Johnson, a former teammate of Mourikes on the men's soccer team, was approaching graduation and in need of a job. Trail-Johnson sent his resume to Mourikes with hopes that it would lead to an interview. To Trail-Johnson's benefit, it did in fact lead to an interview and then also a full-time job with the Science Channel, a division of Discovery Communications.
Canulli, Mourikes, and Trail-Johnson all currently work at Discovery Communications and will often meet up after work. Three years into the working world, when Canulli reflects back on her undergraduate years, she noted that, "making connections is so important, especially during your senior year. I realize now how special Lake Forest College is. When I was a student-athlete, alumni would frequently return to campus for games and networking events, which helped us build valuable relationships."
Related Links: