Foresters earn top honors at regional pharmacology competition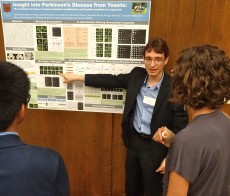 Foresters took first, second, and third place in the undergraduate poster competition at the 30th Annual Great Lakes Chapter of the American Society of Pharmaceutical and Experimental Therapeutics (GLC-ASPET) meeting—the premier pharmacology gathering in the Midwest—held at the University of Illinois College of Medicine in Chicago on June 23.
This is the tenth consecutive year that Lake Forest College science majors have earned honors at GLC-ASPET and the second time in the past decade Foresters swept the competition.
Winners Yoan Ganev '19, from Lake Zurich, Illinois, and Chisomo Mwale '19, from Lusaka, Zambia, are current neuroscience majors. Alexandra Roman '16, from Mundelein, Illinois, graduated with a neuroscience major and minors in chemistry and music. All three got their initial taste for undergraduate research in the Richter Scholar Summer Research Program in Professor of Biology Shubhik DebBurman's Parkinson's Disease lab at Lake Forest College and are planning for careers in academic medicine.
Roman already works full-time as a research technician at Rosalind Franklin University of Medicine and Science (RFUMS), and has applied for medical school this year. She presented her award-winning poster based on current research on traumatic stress disorders that she conducted with RFUMS Professor of Neuroscience Dr. Joanna Dabrowska.
Ganev is studying how familial mutations and chemical modifications on the Parkinson's Disease protein alpha-synuclein influence each other to create and control its toxicity properties by using a simple, yet powerful, model organism: yeast. Ganev's presentation, based on his future senior thesis project on Parkinson's Disease, represents the collaborative effort of a talented undergraduate team that includes Chisomo Mwale '19, Rosemary Thomas '18, Alexandra Roman '16, Morgan Marshall '16 and two current Richter Scholars Joseph Mountain '20 and Ariane Balaram '20.
"Working in a lab has given me important skills and technical knowledge in a way that is much easier to synthesize than simply reading the theory in textbooks," Ganev said. "I know that undergraduate research will strengthen my résumé and help my medical school application stand out."
Mwale presented on new findings that explain how three recently discovered familial mutants of Parkinson's Disease generate their toxicities providing evidence each mutant is distinctive in their effects they produce in yeast models. Like Ganev, Mwale's presentation is based on the research that she first began as a Richter Scholar and that will become her senior thesis. She collaborated on this long-term ongoing project with graduates Emily Ong '17, Charles Alvarado '16, Maiwase Tembo '15, and Natalie Kukulka '13 and with current peers Paul Jones '18 and Michael Buabeng '19. Yoan Ganev and Chisomo Mwale were both named Bartam Scholars in 2017 and funds from this grant supported the work they present at the meeting.
"Presenting the results of one's research at meetings and conferences can be a daunting thing to think about sometimes," Mwale said. "I am fortunate enough to be surrounded by supportive people in the lab as well as a diligent and supportive professor. This, and a good understanding of the material, were necessary factors at the GLC-ASPET meeting."

DebBurman believes that the consistency with which Lake Forest science students continue to shine for their research communication at professional venues is the product of the College's science curriculum in which faculty instill scholarly inquiry and a high level of professionalism through course work and research mentoring. 
"We are all deeply motivated to train our students to think and work like scientists and be best prepared to become members and leaders of the biomedical community," he said. "To witness our students receiving accolades year after year for their scientific discoveries at professional conferences like GLC-ASPET is simply the icing on the cake."
Fifteen students engaged in summer research at the College or at RFUMS attended the conference, including several Richter Scholars developing their edge with an early taste for scientific research the summer before their sophomore year.
Richter Scholar Alexsandra Biel '20 got the unusual opportunity to present her research at the Chicago conference, which has motivated her even more to advance in the science field. "It was amazing to know that the work I presented was research that I have been doing this summer along with work done by honored alums," Biel said. "I enjoyed the fact that everyone who came to the presentation had a keen interest in the research. GLC-ASPET has opened my eyes to all the potential paths I could take in my future by meeting with professionals."
Michael Janecek '18, a neuroscience major, is among several Foresters conducting reserach at RFUMS this summer as part of the LFC-RFUMS summer scholars program. He is researching how social isolation affects stress and hopes to present that research next year at GLC-ASPET.
"Science is a thoroughly collaborative effort, and it takes place both in the laboratory and at conferences like GLC-ASPET," Janecek said. "Throughout the conference, I jotted down novel ideas for experiments or future directions, broadening my research scope and connecting the dots. I benefitted greatly from networking with PhDs, MDs, and other professionals, learning about neuroscience applications that had not occurred to me prior and narrowing down my career focus."
GLC-ASPET is the Midwest's professional pharmacology and toxicology society. Its members conduct basic and clinical pharmacological research and work for academia, government, large pharmaceutical companies, small biotech companies, and even not-for-profit organizations throughout the Midwest.
 
Past Lake Forest College Winners at GLC-ASPET:

2016
Emily Ong '17, neuroscience major, co-won the Second Prize. She received the college's 2017 Phi Beta Kappa Senior Thesis Award for this work and was funded by a national grant from the Parkinson Disease Foundation. She is planning to work full-time in biomedical research at a medical school and then apply for medical school.
Rosemary Thomas '18, biology and neuroscience major, also co-won the Second Prize and is conducting her senior thesis research this upcoming year with the plan to apply for medical school post-graduation.

2015
Saul Bello Rojas '16, neuroscience major, won the Second Prize. He is currently a full time research scientist at Northwestern Feinberg School of Medicine and plans to pursue a PhD in the future. He was selected for the post-baccalaureate PREP program in neuroscience at northwestern University in 2017.
Rachel Granberg '16, biology major, won the Third Prize for work she conducted at RFUMS and is pursuing MD studies at Thomas Jefferson University.

2014

Charles Alvarado '16, neuroscience and education major, won the First Prize and has obtained a Masters of Art in Teaching (M.A.T.) degree from Lake Forest College in 2017.

2013
Maiwase Tembo '15, biology and neuroscience major, won the First Prize and is pursuing her PhD in life sciences at the University of Pittsburgh.

2012
Katrina Campbell '14, biology major, won the Second Prize. She completed an NIH IRTA Fellow at the NIH-NIAID Rocky Mountain labs from 2014-16 and is now pursuing her PhD studies in Neuroscience at Northwestern University.

2011
Keith Solvang '11, biology major, won the First Prize and received his Masters and M.D. degrees from Rosalind Franklin University of Medicine and Science.

Pascal Accoh '12, biology and neuroscience major, won the Third Prize and is pursuing his M.D. degree at Southern Illinois University.

2010
Alina Konnikova '11, biology major, won the First Prize and received her M.D. degree from the University of Illinois Chicago Medical School. 
She is conducting her residency at the Medical College of Wisconsin.
Ashleigh Porter '11, biology major, won the Second Prize and received her M.D. degree from Wayne State University Medical School.  

She is conducting her residency at the University of California San Diego School of Medicine.
Natalie Simak '11, biology and psychology major, won the Third Prize and received her M.D. from Rosalind Franklin University of Medicine and Science.
 
She is conducting her residency at the University of Chicago.

2009
Daryn Cass '10, biology and international relations major, won the Third Prize. She received her M.D. degree Rosalind Franklin University of Medicine and Science.

2008
Alexandra Ayala '09, biology major, won the First Prize. She is now a math and science teacher with Teach for America in Houston, Texas.