Forester You Should Know: Chisomo Mwale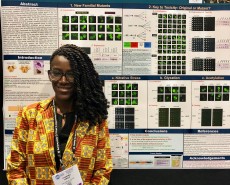 Chisomo Mwale '19 received a 2018 Faculty for Undergraduate Neuroscience travel grant to present her senior project research on Parkinson's disease at the Society for Neuroscience Meeting in San Diego, November 3–7.
Mwale was commended for her quality of research and potential in scientific research, which she presented at the annual meeting of the world's largest organization of scientists and physicians devoted to understanding the brain and the nervous system.
Mwale is a 2018–2019 McGaw Scholar, a member of Senior 25, and is this year's editor-in-chief of Eukaryon. She began her work on Parkinson's disease as a Richter Scholar in Disque D. and Carol Gram Deane Professor of Biological Sciences and Chair of Biology Shubhik DebBurman's lab. She continued to research in his lab for three years. 
A neuroscience major and chemistry minor, Mwale also is involved in the College's annual Brain Awareness Week, which will take place November 12–17 with lectures, presentations, poster sessions, demonstrations, a movie, and even magic and mind mystery entertainment.
Though she is a dedicated and award-winning researcher, Mwale is not all about work. She also believes strongly in getting involved in organizations and reaching out to others. This international student from Zambia is a Forester You Should Know.
What research did you present?
The title of my poster is "Understanding the Nature of Toxicity in Parkinson's Disease-associated α-Synclein Familial Mutants in Yeast Models," which is on mutations that cause early-onset Parkinson's disease. Individuals as young as 35 can develop Parkinson's disease if they have these mutations. What is worse is that the mutations may be passed on to their children through genetics. In order to develop potential treatments for this disease, we need to explore the root of the problem and understand how small changes have drastic effects.
What was it like at the international neuroscience conference?
Attending the Society for Neuroscience conference in San Diego has been an incredible experience. Listening to some of the developing research that is out there is truly amazing. The best part about neuroscience is that it is very interdisciplinary, so I learned about the progress that has been made in computational brain mapping as well as the insights behavioral neuroscientists have been able to make on social rewards and addiction. There are so many brilliant people doing important work and being a part of that has been phenomenal.
What is your career goal?
I am hoping to combine the fields of global health and medicine after graduation by first pursing a master's of public health and then proceeding to medical school.
What originally attracted you to Lake Forest College?

Going to a United World College is what brought my attention to the College. The teachers gave us a list of colleges in the U.S. and Lake Forest College was on that list. I researched the location and thought its proximity to Chicago could provide me with a number of opportunities both academically and culturally. Reading stories on the website informed my decision to apply and, ultimately, to come here. I used to browse student stories quite frequently and felt like I got a sense of how Lake Forest College provided a "home away from home" for international students. They found their place here, and since I wanted to find the same thing in my college experience, I applied.
Why did you decide to major in neuroscience?
I was always interested in science, particularly in how the brain works. When I came to Lake Forest College, I was in a First-Year Studies course called Medical Mysteries of the Mind taught by Dr. DebBurman. Being in that class taught me that neuroscience is hard—but it's interesting—and that there's a whole universe of information that we don't know.
What advice would you give to new students?
My advice is to not be afraid to step out of your comfort zone. I have found my closest relationships here with faculty members and staff who genuinely appreciate and value my presence. They want to help in any way they can and they're here to support you. It might be scary at first, but you'll find yourself, your place, and your people here.
What experiences have you had outside the classroom and lab that you feel will shape your future?
When I first came to Lake Forest College, I quickly realized that in addition to classes, I wanted to become part of student organizations. I joined UMOJA, which focuses on promoting awareness and a cultural perspective of the African continent, and Eukaryon, the College's award-winning undergraduate life sciences research journal. I became a resident assistant, as well. All these experiences have helped me get out of my comfort zone, since I'm often interacting with people who I wouldn't normally interact with. Being part of a variety of campus organizations has been a great experience for me.
Related Links: