Faculty member you should know: Jean-Marie Maddux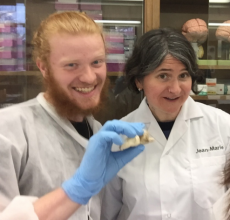 Assistant Professor of Psychology Jean-Marie Maddux didn't quite know what to expect when she started teaching at Lake Forest College in spring 2016.
"I had no experience with liberal arts colleges before," she said. "It's a very different model than what I was used to." A native of the Bronx, Maddux attended New York City public schools through high school and completed her undergraduate degree at Binghamton University, part of the State University of New York (SUNY) system. There, she switched her major to psychobiology, "or what we would now call neuroscience," after taking her first class in the then-unheard-of field, she said.
After earning her bachelor's degree, Maddux worked as a lab tech in a medical center in New York City for a few years before entering graduate school. Her first experience attending a private school was at Johns Hopkins University, where Maddux earn her master's and PhD. Later, she had two post-doctoral research fellowships, at the University of New South Wales in Sydney, Australia, and at Concordia University in Montreal.
As classes get under way for the fall 2017 semester, this behavioral scientist is a faculty member you should know:
Q: What drew you to Lake Forest College?
A: "I like that it's near Chicago. Lake Forest College is unique that way. As far as liberal arts colleges go, many tend to be in the middle of nowhere. For me, personally, I don't think that would've been a good fit. I like having a big city close by. The people at Lake Forest were a big draw, too. Everyone is welcoming and supportive. This might sound kind of cheesy, but it's really just a very nice work environment where I feel I can be myself. I'm a pretty frank person—I say what I'm actually thinking—and I can do that here, which is tremendous."  
Q: What is your area of study?
A: "I'm interested in learning, the mechanisms of learning, and reward behavior. When you say 'learning' in the neuroscience world, you're usually talking about associative learning—really basic processes like Pavlovian conditioning and operant conditioning. I've done work with drug rewards, like alcohol, which is very ubiquitous in our society, relatively easy to work with, and very easy for students to see how what they're doing in the lab with rats applies to real life. My research focuses on how those learning and reward processes function in addiction, for example, how cues for alcohol become very powerful motivators in the lives of people and animals."
Q: What classes do you teach?
A: "I teach The Neuroscience of Reward, a senior seminar class that I created; Neuroscience and Behavior, where students get to work with rats; and Learning, which are all cross-listed in neuroscience and psychology.  I also teach an Intro to Psychology lab. It's unique here that the intro class has a lab component."
Q: You had a Richter Scholar project your first summer here, will you do that again?
A: "Yes, I will. I think this summer research program is a really good experience for students. Ultimately, the way you find out if you like something is by trying it. It's an asset that the school really encourages students to try things and, specifically, to try research. If you do it and you take to it and you love it, great; you can keep doing it. If you do it and it's not for you, that's fine, too: you can go do something else. That's an incredibly valuable experience. Doing research early on—the summer after your first year—is quite smart. In some cases, that can spark a student's interest. Maybe they'll stumble across something they hadn't considered before. Having had that experience early on gives more time to work with it and figure things out." 
Q: What is the neuroscience program like at Lake Forest College?
A: "Neuroscience is a growing field. Here at Lake Forest, the program has gained a lot of traction. It's a very popular major and there's a real sense of community within that group, which is very nice. Many students in the program take advantage of internships, which is fantastic. It's better to try it out now when you're a student and figure out if this is the path you want. That experience will give you that much more of a leg up to figure out the next step after graduation."
Q: What opportunities do you see at Lake Forest College going forward?
A: "When the Lillard Science Center is completed, it's going to bring a lot of opportunities to the College. There's a lot of physicality in science, specifically lab space and special equipment. Having a bigger, better facility will give students better research opportunities and will be attractive to current and future faculty. Besides research opportunities, the new facility will give students more access to professors. Students are always welcome to come and chat with us if something didn't quite make sense in a lecture or to just get to know each other. Students here have access to professors in a way that might not happen at some bigger places. That's a very big advantage, not just in terms of their classes but in figuring out what they want to do after they graduate. If they want to do a graduate degree or something else, they can talk with someone who's actually done that. Having all of the sciences under one roof will help with that collaboration." 
Q: What do you like best about Lake Forest College?
A: "To me the big selling point really is the people. The faculty and students are very, very good people and working with them is enjoyable. The students are interested and motivated and want to participate in class. That really energizes you for teaching. It makes it fun. At the end of the day, that's the most important thing."
Q: What advice would you offer to students?
A: "Instead of mapping out your whole life, find what you like to do and keep doing it. Take it one step at a time. You need to allow yourself to live your life. It's important for college students to get different experiences and find their direction from that."