Eukaryon turns 10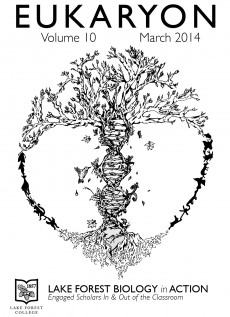 Lake Forest College celebrated the tenth volume of Eukaryon, the student-produced science journal, on March 4.
The Department of Biology at Lake Forest College is pleased to announce the publication of the tenth edition of the journal Eukaryon. The 2014 online edition will be unveiled on the College's website on Tuesday, March 4, 2014, as well as a campus reception celebrating the collaborative work of the students and faculty will be held from 4:00 - 5:30 p.m. in the Calvin Durand Wood Lounge. Lake Forest College Department of Biology's Dr. Anne E. Houde will present a public lecture entitled "Sex, Color and Mate Choice in Guppies" at 4:20 p.m., following a campus-wide reception at 4:00 pm. Lake Forest College President Stephen Schutt will officially inaugurate the journal at 5:00 pm.
About Eukaryon
Eukaryon is an award-winning undergraduate research journal that publishes the very best of life science scholarship conducted by Lake Forest College students. The goal of the journal is to celebrate and highlight the academic accomplishments achieved by these students within the research-rich classrooms and labs, and within the life science-related activities of Lake Forest College science majors on and off campus. The word "eukaryon" and the journal logo reflect the diversity of organisms that the Biology Department faculty is involved with in their research.
The students and faculty of the Department of Biology founded this peer-reviewed online journal in 2004, first successfully conceived as an idea in an National Science Foundation grant proposal, and published the inaugural issue in January 2005. In 2007, the journal also began publishing a limited print version. An editorial board comprised of biology students is responsible for peer reviewing, copy editing, and publishing the journal annually. The board also authors all editorial policies of the journal with the goal of making Eukaryon a truly student-produced publication that maintains high scientific journalistic standards.
The 2014 issue maintains the journal's high selectivity in peer review. The journal has also continued to improve on several other fronts: increasing the academic diversity of the journal to include submissions from new departments as well as enhance its digital and print media quality for its future. 
As part of reflecting on ten years of innovative growth and achievement, the theme of this year's journal is, "On the origins of Eukaryon". Editor-in-chief Vicki Gerentes '14 said, "In the evolving digital world in which we live, we realized that the future presentation of Eukaryon would at some point claim a permanent address and presence online. We wanted to ensure that we would create a foundation for that new home. The Publications Board transitioned from formatting in Microsoft Word into using Adobe InDesign in order to produce the journal. As the work we accept and review becomes more and more impressive, we need to guarantee that its layout is just as professional. In order to highlight this, we have adopted a new design and typography theme, as well as Eukaryon's first white cover. We hope that this deliberate distance in appearance from past years helps to showcase our vision for the journal as it moves into its\next decade." 
"I was involved with the journal from its very inception in 2002 when it was still an ephemeral synaptic idea hidden within a grant proposal," said current advisor and Professor of Biology Shubhik DebBurman. "Twelve years later, I am tremendously proud to witness its evolution into a tenth edition, see over one hundred students serve on its editorial board and dozens more become published authors, and watch the publication earn national-level science education recognition."
"At its heart, Eukaryon's uniqueness lies in the intellectual autonomy with which its 100 percent undergraduate student editorial board governs all aspects of its publication. Nationally, it is a model for all other institutions to emulate and many are trying.  Eukaryon is truly one of our college's scholarly gems."
About Inauguration speaker Dr. Anne Houde 
Dr. Anne E. Houde is the Foster G. and Mary W. MgGaw Professor in the Life sciences at Lake Forest College. Dr. Houde received an A.B. in Biology with cum laude honors from Princeton University and MS and PhD in Zoology from the University of Maryland. She conducted postdoctoral research at University of California Santa Barbara, before she arrived at our college in 1992, where she has chaired the biology department twice.
Dr. Houde has received several National Science Foundation grants for her well-regarded research in the areas of Behavioral Ecology and Evolution, Evolution of Sexual Behavior, Behavior and Evolution of the Guppy. She has published key articles in prestigious journals including Nature, Proceedings of the National Academy of Sciences, Behavioural Ecology, Animal Behavior, and Evolution. 
Through grants and publications, she has trained scores of Lake Forest College undergraduates, many of who have pursued diverse scientific careers. In 2006, she received Lake Forest College's Bird Award for Intellectual Contributions to the Campus Community.