'End the Silence' started a discussion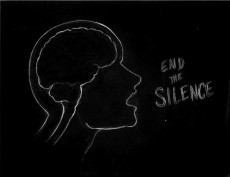 With the financial backing of a national grant, the Lake Forest College Nu Rho Psi chapter created opportunities for students on campus to relax, combat stress and anxiety, and start a conversation about mental illnesses.
"For 'End the Silence,' we wanted to go further than just talking about stress and anxiety by focusing on mental health as a whole," said Danielle Berninzoni '20, who helped secure the grant last year. "We felt that many people struggle with mental illness, and we wanted people to know they're not alone in their struggles."
Students' work on the "End the Silence" project culminated on March 1 with a day of activities. The events included "Meal and Meditation," where students joined Nu Rho Psi for snacks, tea, and dessert and discussed mindful behaviors like partaking in guided meditation and enjoying relaxing activities, such as coloring.
Later, the lunch was followed by a screening of the "Ending the Silence at Lake Forest College" video that highlighted anonymous responses from students at the College who have suffered from mental illnesses and a panel discussion.
The panel featured speakers Otelia Schwartz, John Borland, Miriam Smith-Taylor, and Cindy Comitor—all from the National Alliance on Mental Illness who have experienced mental illness or have loved ones with a mental illness. The guests described their experiences, and the audience had a chance to ask them questions.
"Overall, it turned out to be a great event as the anonymous responses from the students and the stories from the guest speakers were quite powerful," said Parth Tank '18, one of the presidents of Nu Rho Psi.
Nu Rho Psi—the National Honor Society in Neuroscience—received the grant for "End the Silence" by entering a national grant competition hosted by the national Nu Rho Psi council. The competition encouraged universities and colleges to promote awareness for the chosen theme of the year: stress and anxiety.
"The grant took many drafts and tries before we got it right, but we specifically planned out our day with lunch, the video, and the speakers," Berninzoni said.
"I think this event is hugely important when it comes to normalizing mental illness," said Alexandra Skoczek '18, a philosophy and neuroscience double-major and a president of Nu Rho Psi. "Without majors like neuroscience, psychology, and even philosophy, how will we ever understand the mechanisms behind these illnesses?"