Connections made at Speed Networking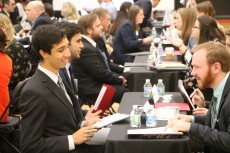 The College's Speed Networking 2018 event drew 125 students from all career pathways and more than 80 professionals who made connections during the annual networking hotspot on October 4.
Students met in five-minute conversations with professionals from a wide mix of organizations, including AbbVie, the Ravinia Festival Association, W.W. Grainger, Axiom Consulting Partners, Cancer Treatment Centers of America, Coyote Logistics, Lookingglass Theatre Company, and Alight Solutions. Thirty-two percent of the professionals were Lake Forest alumni.
Viktoriya Grayson '18, a research technologist at Northwestern University Feinberg School of Medicine, returned this year as a professional to give back to the Career Advancement Center event that helped her shape her own career path.
"As a student, Speed Networking gave me an idea of how interviews go, what to talk about, what the professionals did, and how they got to where they are today," Grayson said. "Through Speed Networking, I started volunteering at Northwestern Hospital and eventually started working in their ER. I made a lot of connections, which helped me get to where I am today."
Modeled after speed dating, Speed Networking pairs students with professionals for five-minute conversations. In addition to discussing open job and internship opportunities, professionals share their career experiences and give advice to aspiring students. More than 1,400 conversations took place during the signature CAC event.
"I got to meet with several people who are involved with both math—the analytical side of what I'm interested in—as well as healthcare," said Lauren Giurini '20, who hopes to go into public health, bio statistics, or hospital management. "Reaching out to people and learning from their experiences and people they know can really benefit me in learning my next steps for going to grad school or getting a job." 
Communication major Koffivi Vonor '19 found the opportunity to meet with so many individuals during the 20 rounds of talks to be an important stepping stone in his career development.
"Being able to talk to different people and find out about their job, their experience, and the culture at their company is something that I think is really important," he said. "I'm really glad the College provided this opportunity to talk with a lot of individuals in different industries and to be able to get advice from professionals."
Related Links: