Congratulations to the 2018 Nu Rho Psi inductees!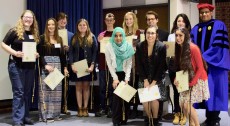 Lake Forest College inducted 22 new members—including current students, alumni, and faculty—into Nu Rho Psi, the National Honor Society in Neuroscience, at the NeuroFrontiers Conference on April 28.
The following students were inducted:
Trevor Buhr '18
Philip Freund '18
Michael Janeček '18
Ruqia Bibi '19
Nicole Hedger '19
Alexsandra Biel '20
Ariane Balaram '20
Lauren Giurini '20
Emma Kuhr '20
Estella Tcaturian '21
Blakely Drake '21
Alexandra Dejneka '21
Professor of Biology Douglas Light was also inducted alongside nine alumni, including Mithaq Vahedi '08, Jennillee Wallace '09, Brian Kinsman '10, Keith Solvang '11, Alina Konnikova '11, Natalie Simak '11, Jonathan Flaksman '11, Pascal Accoh '12, and Jessica Dudley '14. 
At the conference, current students presented research, participated on panels with established scientists, and role-played as the world-leaders of neuroscience.
Conference attendees also had the opportunity to hear from a number of established professionals, including featured panelist Dr. Joanna Dabrowska, who works with Lake Forest College undergraduates through a partnership with Rosalind Franklin University.