College's young Nu Rho Psi chapter earns national recognition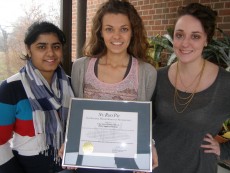 The Chapter of the Year Award, announced last month during the annual Society for Neuroscience Meeting in San Diego, recognizes the accomplishments of a Nu Rho Psi chapter for excellence in carrying out the organization's mission at the local, regional, and/or national level.
Alumni Michael Zorniak '07 and Emily Hankosky '09, who were attending the meeting, accepted the award on behalf of the College. The plaque arrived on campus last week and was officially accepted by executive board members President Vicky Egedus '14, who authored the application, Vice President Rida Khan '14, and Secretary Kayla Huber '16.
The award committee was impressed by the influence the Lake Forest chapter has had on its community in such a short amount of time, as it was only chartered in the spring of 2012.
Among the chapter members' accomplishments, they organized the very first Brain, Mind, and Behavior symposium associated with November's Brain Awareness Week. They also sponsored four major neuroscience seminars with speakers drawn from three different Chicago area medical schools.
Endorsing the decision, one reviewer commented, "This chapter creatively integrated the school's curriculum into their community outreach as a neuroscience class taught students at a local elementary school about how our brain senses, integrates, and acts."
Another noted, "Chapter members led a group of students who raised funds to support several local persons with a rare neurological disease. Nu Rho Psi members also co-organized a scientific research conference where the public learned about the brain through students role-playing scientists from diverse sub-fields of neuroscience."
A third reviewer wrote, "The chapter membership appears to be very cohesive as they meet once every two weeks, maintain an active website, and integrate their work with other Neuroscience groups on campus."