College presents 13th annual Brain Awareness Week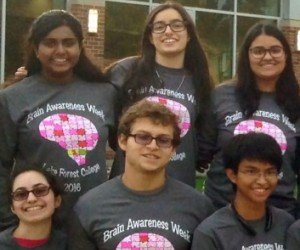 How the brain reacts to bilingualism, the neuroscience behind attention, and the role the brain plays in voting and making purchases will be explored during the 13th annual Brain Awareness Week at Lake Forest College, November 7-12.
Highlights of the week include:
"Consequences of Bilingualism for Cognition, Language, and the Brain," by Northwestern University Ralph and Jean Sundin Endowed Chair in Communication Sciences and Disorders Dr. Viorica Marian, 4:15 to 5:15 p.m. on Monday in Meyer Auditorium
"What is Attention? Insights from the Signals of Individual Brain Cells," by world expert Dr. John Maunsell, director of the Grossman Institute of Neuroscience at the University of Chicago, 4:15 to 5:15 p.m. on Tuesday in Meyer Auditorium
"Brains, Business and the Ballot Box: Using Neuroscience to Predict Purchases and Votes," by Sam Barnett, CEO and founder of SBB Research Group who created an algorithm for forecasting stock prices in his sophomore year at CalTech and today manages over $200 million in investments, 4:15–5:15 p.m. Wednesday in the Lily Reid Holt Memorial Chapel
Concussion, the 2015 film in which accomplished pathologist Dr. Bennet Omalu, played by Will Smith, uncovers the truth about brain damage in football players who suffer repeated concussions in the course of normal play, including an interdisciplinary faculty panel discussion, from 7:30–10 p.m. Friday in McCormick Auditorium
"The goal of this year's Brain Awareness Week is to highlight interdisciplinary connections because, ultimately, our brain is who we are as scientists, thinkers, artists, and more, and what we contribute to an increasingly interconnected society. Intentionally, we chose topics that connect brain science with modern languages, politics, entrepreneurship, business and economics," Chair of Neuroscience and Professor of Biology Shubhik DebBurman said.
Students will present outreach seminars on topics including cognition and thought, learning and memory, and emotions in three sessions, 5:30 to 7 p.m. on Monday, Tuesday, and Wednesday in the Mohr Student Center.
"The brain brings biology and psychology together. If you learn more about the brain, you'll get a better understanding of what makes you you," Rosemary Thomas '18 said. One of the Brain Awareness Week organizers, Thomas also will present research on cannabis and how it relates to aversive memory and reward memory during the "Addiction and the Brain" session from 6:30 to 8 p.m. on Tuesday.
The fourth annual Robert B. Glassman Memorial Brain, Mind, and Behavior Symposium, in honor of the late professor of psychology who played a leading role in developing the popular neuroscience major at the College, will take place on Thursday. The symposium will feature poster presentations by students and alumni from 5 to 6:45 p.m. followed by interdisciplinary faculty talks on what is a real religious experience, philosophy of the mind, detecting prion diseases, computers seeing like humans do, and the evolution of rats' responses to alcohol cues from 6:45 to 8:30 p.m. in the Lily Reid Holt Memorial Chapel.
Brain Awareness Week will wrap up with "Mind Mysteries of Christ Carter," one of the country's best-known mentalists, at 8 p.m. on Saturday, in the Mohr Student Center.
"Brain Awareness Week is a very student-driven week that attracts over 1,000 community participants and features the academic work of over 100 students," DebBurman said. "It takes months to organize and is a wonderful example of interdisciplinary faculty-student collaboration that ferments best at liberal arts colleges."
All events are free and open to the public.