Chinese New Year celebration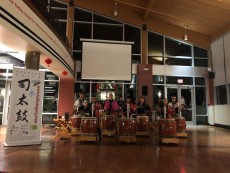 The Chinese Cultural Club held a celebration in the Mohr Student Center in honor of Chinese New Year.
This event featured the Tsukasa Taiko, a Japanese drumming troupe from Chicago, who presented attendees with a half an hour traditional performance, which we were very fortunate to have. In addition about eighty students, faculty, and other members of the Lake Forest College community were able to enjoy an assortment of Chinese food during the performance. The cuisine featured dishes like fried rice, Kung Pao beef, creamy shrimp, and many more.  Afterwards, attendees were able to create their own paper lanterns or play jianzi, which is China's version of hacky sack, to have their own fun. This event was very successful in honoring this traditional Chinese holiday, and bringing together a community of students and faculty. Hopefully this tradition can continue for years to come, and the Chinese culture can reach more students.