Chicago dig uncovers clues to 19th C. class structure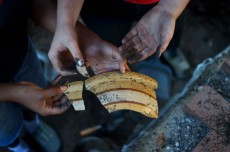 Students Anne Marie Brugioni '16 and Xhris Fitzgerald '17 present preliminary findings at the Midwest Historical Archaeology Conference in Minneapolis, Minnesota.
The Charnley-Persky house on Astor Street on Chicago's Gold Coast is the site of a long-term archaeological excavation led by Assistant Professor of Anthropology Rebecca Graff. Last summer, students in Graff's course, titled "Archaeology Field School," unearthed a variety of artifacts near the late 19th-century home designed by Louis Sullivan and his junior draftsman, Frank Lloyd Wright. 
In preparation for the Midwest Historical Archaeology Conference presentation, Anne Marie and Xhris, who took part in the summertime dig, studied artifacts, including such things as cans, bottles, ceramics, small boxes, and even oyster shells and other food remains, through the lens of socioeconomic status of those who lived in or near the home during the late 19th-century. Through their analysis, they found the artifacts raise more questions than they answered. 
"We decided that ideas of class are harder to decipher [than originally expected], especially because the Charnleys and other residents of the house had servants that were also handling the artifacts and, during this time period, also were trying to create/buy items that made it seem like they were wealthy and in a higher socioeconomic class," the students explained.
The students were the only undergraduates among the group of presenters, who came from colleges and universities across the Midwest. "I had a feeling Anne Marie and I were going to be the only undergraduates presenting, but I had no idea we would also be the only undergraduates in attendance," Xhris said. "It was a good experience for us to see how to answer questions from other academics concisely and as accurately as possible," he added.
"Attending the conference was a great experience for me and it allowed me to recognize what the field of archaeology is like at a professional level—rather than solely as a student," said Anne Marie. 
The Charnley-Persky project is funded by Digital Chicago, a grant from the Mellon Foundation. 
Related Links: