Celebrating the Moon Festival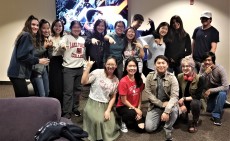 On September 27th 2018, United Asia and the Chinese Cultural Club of Lake Forest College hosted our annual event— Mid-Autumn Festival, also called Moon Festival.
Moon Festival is the second grandest festival after the Spring Festival in China. We were delighted that more than 50 students, professors and staff attend the event. We talked about the history and tradition of Moon festival, had moon cakes and delicious Chinese food from Parkhurst. We also played an ancient Chinese board game of Go. Professor Wu explained the rules of the game of Go. Many students were fascinated with this game.