Brainy Bonanza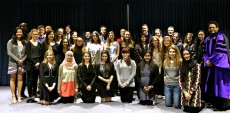 Six distinguished young alumni joined thirteen students and two faculty for the 2016 Nu Rho Psi Induction ceremony on March 17 at Lake Forest College, where all neuroscience seniors were saluted and outstanding leadership was recognized. The Induction lecture entitled "Making Spare Parts for Brain Repair", was presented by Dr. Daniel A. Peterson, PhD, Professor and Vice-Chairman of Neuroscience and Director, Center for Stem Cell and Regenerative Medicine, Rosalind Franklin University of Medicine and Science.
Full Program

McCormick Auditorium and Lobby

4:15 pm, Nu Rho Psi Induction
4:35 pm, Neuroscience Senior Salute and Senior Leadership Recognition
What is Nu Rho Psi?
Nu Rho Psi is the National Honor Society in Neuroscience, founded in 2006 by the Faculty for Undergraduate Neuroscience. The Lake Forest College Chapter became the 26th member of this national organization in spring 2012. In 2013-14, the college's chapter received the inaugural Nu Rho Psi National Chapter of the Year award at the annual Society for Neuroscience meeting.
Thirteen current neuroscience majors, two faculty and six biology and psychology alumni were inducted as 2016 members of the society, making it the largest class of inductees yet at the college. The Neuroscience Program began in 2009 at the college and has rapidly become one of the largest majors.

Students
Sarah Applebey '18
Ellie Bacon '19
Grant Brady '18
Olivia Dellomodarme '19
Kendra Fobert '19
Heather Heitkotter '16
Paul Jones '18
Pegah Nabili '18
Hannah Samberg '16
Luke Shylanski '18
Alexandra Skoczek '18
Parth Tank '18
Rosemary Thomas '18
Alumni
Dr. Christina Christ '03, M.D.
Julia Shklovskaya '03, M.P.P.A.
Krista Kusinski '08, M.S.N.
Dr. Shruti Pore '08, D.M.D.
Dr. Stephanne Levin '09, D.V.M.
Emily Hankosky '10 (Ph.D. candidate)
Faculty
Dr. Lukasz Konopka, Ph.D.
Dr. Jean-Marie Maddux, Ph.D.
Induction Speaker - 4:45 PM
The 2016 Induction speaker, Dr. Peterson, received his Bachelor of Science in psychobiology from the University of Southern California and his Ph.D in Anatomy from the University of Otago in New Zealand. He conducted postdoctoral studies at the University of California's department of Neuroscience with Rusty Gage before moving to the Laboratory of Genetics at the Salk institute in California as a Staff Scientist. In 1998, Dr. Peterson joined the Department of Neuroscience at Rosalind Franklin University. In addition to serving in their Neuroscience Department, he is the director of the Center for Stem Cell and Regenerative medicine. He is also Past-President of the Chicago Chapter of the Society for neuroscience and Past-President of the American Society for Neural Therapy and Repair. Currently, Dr. Peterson serves as the President and Chief Scientific Officer of NeuroRenew. Dr. Peterson's research is focused on utilizing stem cells in brain repair and wound healing, and also seeks to understand the role of stem cells in aging tissue. His lab utilizes and seeks to improve methods for quantitative analysis, with the goal of generating reproducible data with reduced methodological biases. He has been invited to present at over 30 international symposia, and his work has lead to over 70 publications in journals including Nature, Science, and the Journal of Comparative Neurology.

Alumni Recognition

A highlight of the annual Nu Rho Psi induction ceremony at Lake Forest College is to honor recent college science alumni who graduated before the neuroscience major began at the college but whose course work at the college and professional pursuits after graduation are consistent with neuroscience major goals and outcomes. This year six alumni were honored and we are pleased to share their official induction citations.
Our first alumnus honoree is Dr. Christina Christ who graduated from Lake Forest College in 2003 with Cum Laude honors. She majored in Biology with a minor in Chemistry. Dr. Christ earned her M.D from Louisiana State University School of Medicine and completed her internal medicine residency at the University of South Carolina. She is currently pursuing her fellowship in pulmonary medicine and critical care disease. During her medical training, Dr. Christ has conducted both research and quality improvement plans on thoracic ultrasound issues, asthma action plans to reduce emergency visits, and on nailfold capillaroscopy in severe sepsis. Dr. Christ's research interests were first fostered as a Richter Scholarship that led to a senior thesis with distinction that she conducted with Dr. Karen Kirk. As a Lake Forest student, she became a published co-author in the journal Eukaryotic Cell and presented her work at the prestigious Cold Spring Harbor labs meeting on telomeres. A highly involved student in many campus organizations, she served as an orientation leader, biology and chemistry tutor, and Tribeta President her senior year; for these and more leadership roles she was selected to Senior 25.

Our second alumnus honoree is Ms. Julia Shklovskaya who also graduated in 2003 with a major in Biology and minors in Spanish and Chemistry. While a Lake Forest student, she studied abroad at the Center of Cross Cultural study in Seville (Spain). After graduating from Lake Forest, she first worked at Abbott labs for two years as an Associate Scientist. She then worked as the research program supervisor with Chicago's Access Community Network, followed by Program Coordinator with the National Cancer Institute Chemoprevention group at Northwestern Medical School. During this time, she received a Masters of Arts in Public Policy and Administration from Northwestern University in 2011. Since 2013, Ms. Shklovskaya has worked at Takeda Pharmaceuticals International in various leadership capacities: first as Project manager for Global External Research, then as Sr. Project Manager in Independent Medical Education and Medical External Affairs, and finally now she serves as this organization's Chief Manager. Throughout her career, first in non-profit and then in pharmaceuticals, Ms. Shklovskaya has been a prolific publisher in international journals and presented around the world.
Our third alumnus inductee this year is Dr. Shruti Pore who graduated in 2008 with Phi Beta Kappa and Summa Cum Laude honors and with majors in Biology and French. While a junior, she also studied abroad in Paris, France. Dr. Pore received her Doctor of Dental medicine degree with Cum Laude honors from Tufts University graduating in the Top 10% of her class and she competed her general practice residency at OSF St. Francis Hospital in Peoria Illinois. She is currently a dentist with the Associates in Dentist Practice. Throughout dental school, Dr. Pore engaged in substantive research on the molecular basis of squamous cell carcinoma that she presented multiple times at the annual American Association of Dental Research meetings. This love for medical research began at Lake Forest, where Dr. Pore pursued Richter Scholar research with Dr. Doug Light that led to a senior thesis as well as a co-authored article in the Journal of Membrane Biology. She received the Stahl Award for outstanding senior accomplishment in biology. Dr. Pore was also a prolific student leader throughout her dental training years, serving ultimately as President of the American Association of Women Dentists Tufts Chapter. Her leadership record at Lake Forest was truly outstanding: she was a major leader in the Residential Life and on student government. She served on major campus committees including College Council and the General Education Curriculum Task Force. She served as the third Editor-in-Chief of Eukaryon. For her leadership contributions, she was elected to Senior 25 and named the McGaw Scholar her senior year.

Our fourth alumnus inductee this year is Ms. Krista Kusinski who graduated with a major in biology in 2008. Krista received her Accelerated Bachelors of Science in Nursing degree from Loyola University, while working as a Nurse Resident at Advocate Illinois Masonic Medical Center. She then received her Masters of Science in Nursing degree from Rush University, while working as a Registered Nurse at Advocate. She is now a Neonatal Nurse Practitioner at the neonatal intensive care unit at Rush University Medical Center, while still also working at Advocate. At Lake Forest, Krista was an accomplished scholar athlete and played four years in the college's NCAA Division III Soccer Team, receiving the Most Improved Player award her freshman year. She was also the Vice-President of the Delta Gamma sorority. She served on the Student Academic Advisory Committee for Biology, was elected to Tribeta, and a was a peer teacher for cell and Molecular biology. Krista's commitment to leadership and service continued all though her nursing education, where she received the Daisy Award for going above and beyond for an individual patient, and the MVP award for outstanding nursing, both in 2013. She currently serves on the Education Committee for nursing staff training at Rush.

Our fifth alumnus inductee this year is Dr. Stephanne Levin Schwartz who graduated with Phi Beta Kappa and Magna Cum Laude honors in 2009, with a major in biology and a minor in chemistry. Dr. Schwartz received her Doctor of Veterinary Medicine degree from University of Illinois Urbana Champaign as the 2014 Class Valedictorian in its school of veterinary of medicine. For her truly superior academic record in veterinary school, Dr. Schwartz received the University's Merck Veterinary Manual Award, the Tanner Long Memorial Scholarshsip in dermatology, and the Dr. Jesse Sampson Award, to name just a few. She completed an internship in companion animal medicine and surgery in Louisiana State University School of Veterinary Medicine and she is currently a resident in veterinary dermatology at the Dermatology for Animals center in Gilbert Arizona. At Lake Forest, Dr. Schwartz maintained a record of superior academic and professional excellence for which she received the Stahl Award for outstanding accomplishment in biology. As a Richter Scholar, she conducted memory research with late Professor of Psychology Dr. Bob Glassman. She was one of the first students enrolled in our now very successful summer research program with Rosalind Franklin, where she worked on molecular mechanisms linked with Alzheimer's disease. She helped found UAN-ASBMB, the undergraduate student organization in molecular biology and biochemistry her senior year. She was elected to Beta Beta Beta and served as review board chair of Eukaryon senior year.

Our sixth alumnus inductee this year is soon to be PhD Ms. Emily Hankosky who graduated in 2009 with Magna Cum Laude and Phi Beta Kappa honors with a major in psychology. Shortly after graduation, Emily began a Ph.D. program in behavioral neuroscience at the University of Illinois, Urbana-Champaign where she examines the behavioral and neurobiological consequences of adolescent drug exposure. While in graduate school, Emily has published four articles and a book chapter, mentored dozens of undergraduates, and assisted in teaching a variety of courses on brain, mind, and behavior. She earned her graduate teaching and teacher scholar certificates at the the Center for Innovation in Teaching and Learning at Urbana-Champaign, and earned recognition for excellence in teaching in 2013. She will complete her Ph.D. later this year. During her senior year at Lake Forest College, she completed neuroscientific research with Dr. Amiel Rosenkranz at Rosalind Franklin School of Medicine and Science, which led to a publication in Biological Psychiatry the very next year. She is also an inducted member in Psi Chi, the psychology national honor society, Phi Sigma Iota, the national foreign language honor society, and Sigma Xi, the society for scientific research.

Senior Salute and Nu Rho Psi Senior Leadership and Service Award


The Neuroscience Program saluted all graduating seniors majoring (21) and minoring (3) in neuroscience in a special ceremony. This year's class is the largest yet to graduate in the major, with students embarking on careers as diverse as Masters and PhD studies in various disciplines, medicine, physical therapy, nursing, physician assistantship, veterinary medicine, science teaching, academic and corporate research jobs, clinical psychology, public health and public policy, and more.

Five senior students were nominated for outstanding leadership and service: Saul Bello Rojas '16, Sarah Chiren '16, Khadijah Hamid '16, Kayla Huber '16,  and Alexandra Roman '16. all five students are true community leaders not only within the neuroscience student community, but also across campus. Among other leadership roles, each of them has served as a peer teacher for one or more courses, led one or more science organizations, conductive extensive undergraduate research and mentored students in lab settings, presented at scientific conferences, and helped with numerous organize outreach and education programs and other program activities. 

Sarah Chiren '16 received the Nu Rho Psi Senior Leadership and Service Award for her diverse leadership roles over the past four years, that include serving as the co-President of Synapse, Vice-President of Nu Rho Psi, Copy-editing Chair of Eukaryon, SAAC member, Peer Teacher and Peer Mentor in neuroscience courses, and helping many students as Writing Center Tutor and other informal ways.

Neurogustation

All seniors and Nu Rho Psi members, along with Neuroscience Program faculty and staff celebrated the end of the academic year at Neurogustation, where a feast of a dinner was had along with a fun senior slide show and where seniors roasting each other with fun certificates.
News Contact
Shubhik K. DebBurman, PhD
Professor of Biology and Neuroscience, Lake Forest College
Ph: (847)-735-6040
Email:
debburman@lfc.edu