Attention-getting research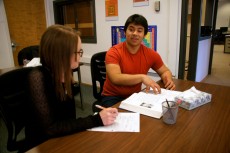 Working as a research assistant at the Smell & Taste Treatment and Research Foundation, Saul Bello Rojas '16 wrote a case study that will be presented to a group of international experts in April.
Rojas' study looks at the effect a yearlong fish-heavy diet had on a patient's sense of taste and sense of smell. The neuroscience and chemistry double-major met the case-study subject during a for-credit internship at the Foundation's Chicago office, where he spent every Tuesday last fall shadowing Dr. Alan Hirsch, a 30-year expert in the field.
"I finished the case study, wrote it up, and submitted it to Dr. Hirsch," Rojas said. Intrigued with the report, Dr. Hirsch submitted it to the Association for Chemoreception Sciences for possible inclusion at its annual meeting of international scientists. "It was accepted," Rojas said.
This internship experience helped Rojas realize his future lies in medical research, not as a medical doctor. "Instead of diagnosing patients, I'd like to be helping make the drugs to treat them," he said. 
His research at the College coupled with his internship experience will give Rojas a leg up in graduate school—and a career in pharmaceutical research. 
"I feel more prepared now entering graduate school than I did leaving high school to enter undergraduate studies, which is a big difference," he said.
News Contact
Linda Blaser
Manager, News and Media Relations
847-735-6177
blaser@lakeforest.edu
Related Links: