Art, science students collaborate on interactive sculpture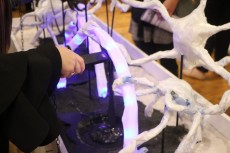 Art and neuroscience students collaborated on an interactive sculpture to bring awareness of glial cells—the most abundant cell type in the central nervous system—to a whole new level during the 2018 Glassman Symposium poster session.
Working together, the art and science students created a 2-by-6-foot sculpture that brought to life how glial cells attach to the axon of the neuron to help translate signals faster. Using a magnetized putty, those interacting with the sculpture scooped up the putty "glial cells" and tried to connect to areas within a cell. Some areas connected and others didn't. That glia dysfunction is the cause of many tragic diseases.
Students in Assistant Professor of Art David Sanchez Burr's 3D Design Foundations class created the sculpture following a proposal from Liza Mrackova '19 and Yoan Ganev '19, co-presidents of Nu Rho Psi, and Danielle Sychowski '19, president of Synapse, who commissioned the work for the 2018 Robert B. Glassman Symposium. They chose to follow the 2018–19 national Nu Rho Psi theme in undergraduate neuroscience oureach and education, "Glials cells in health and disease."
It was Mrackova's idea to bring together both her majors—neuroscience and art—in this collaboration.
As a first step, Mrackova and Ganev put together a worksheet they shared with the art students to explain the role of glial cells. The following week, the two neuroscience majors visited the art class to present a PowerPoint showing multiple microscopic images of glial cells and answer the artists' questions.
Over several class sessions, the art students hammered out their idea and drew up a plan for how to represent the glial cells visually. Once they established a final design, they presented a sketch to Mrackova and Ganev for their review.
"It looked amazing," Mrackova said. "Yoan and I agreed they should go ahead and create the sculpture."
The art students completed the project in class and delivered it to Calvin Durand Hall for the unveiling during the Glassman Symposium. After a quick demonstration, the sculpture created quite a buzz amidst all the posters, Mrackova said.
Scientific concept presented in a 'creative way'
"This was a concrete, enormous sculpture that everyone had a chance to interact with, no matter if you were a science student or not," she said. "Seeing a scientific concept done in a creative way really helps science students think more creatively and look at science problems from a different perspective—a visual perspective."
For the students in the 3D art class, work on the sculpture offered a new understanding of science concepts—even for those who are science majors.
"I was able to look at science a new way through art," said Kim Tarqueno '20, a 3D design student and biology major, who helped build the sculpture. "I gained insight on how art can be made to give people different perspectives about an idea or object."
For Caitlin Lamb '20, an environmental studies major and double minor in museum studies and studio art, this project had a personal impact. "My mother has MS, so learning the different types and functions of the glial cells gave me a lot of insight into what is happening to her, and potentially to me," she said.
Seeking out art students to create a project for a major science event on campus demonstrates the type of opportunities available at Lake Forest College. "Liberal arts colleges like ours are ideal fertile grounds for such interdisciplinary student work where students and faculty are inspired to creatively collaborate to transform ideas into reality," said Disque D. and Carol Gram Deane Professor of Biological Sciences Shubhik DebBurman.
The art piece was created for and unveiled during the College's annual Brain Awareness Week (BAW), where the goal is to educate through outreach and education the interdisciplinary connections between neuroscience and society. BAW has featured an art centerpiece for several years, but never before through a collaboration with an art class.
Titled Unheralded Vigilance, the sculpture is currently on display in the Lillard Science Center, second floor D wing. 
The 3D interactive glial cell sculpture marks the first time that art students created the annual Brain Awareness Week sculpture.
Related Links: