Ariane Balaram '20 receives national grant for neuroscience research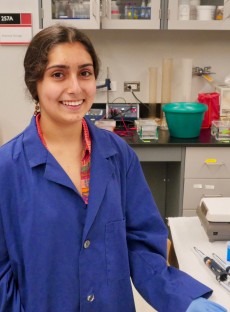 Bartram Scholar Ariane Balaram '20 is Lake Forest College's latest recipient of a national grant to further her research about possible gene interactions related to Parkinson's disease.
Balaram–a rising junior from Ahmedabad, India–is one of only five students in the country to receive a 2018 grant from the National Council of the Nu Rho Psi neuroscience honors society that will support her current research on understanding the genetic underpinnings of Parkinson's disease using an unconventional model organism, yeast. As a grant recipient, Balaram will present her findings at the National Society for Neuroscience meeting in San Diego, California in November 2018.
Balaram joins Foresters Alexandra Roman '16 and Paul Jones '18, who received the same national grant. Roman is beginning MD studies at the Medical College of Wisconsin, and Jones is beginning PhD studies at Washington University in Saint Louis. Jones served as Balaram's mentor last summer when she started her research.
"I was not at all surprised that Ariane's proposal was chosen. She writes with a precise confidence to convey her original ideas that would clearly advance the field of Parkinson's disease if found true," said her faculty mentor Disque D. and Carol Gram Deane Professor of Biological Sciences Shubhik DebBurman. "Ariane made early and significant contributions to this project even as a first-year Richter Scholar last year, and her motivation to delve deeper drove this winning proposal". DebBurman believes that Lake Forest College science students regularly stand out for such types of national grants and scholarships because of the edge that the College's research-rich life sciences curriculum provides and early research experiences that help students thrive.
Balaram is excited to continue her work in the lab this summer. Her work at the College as a neuroscience and biology double major will contribute to her plan to earn a PhD in the future. Read more about her project below:
Q. What kind of research do you plan on presenting in November?
A. The lab where I work, the DebBurman Lab, has historically focused on one important protein that has a role in Parkinson's Disease: alpha synuclein. In fact, alpha synuclein is so important that just one amino acid change in the DNA sequence can give someone a highly aggressive early-onset form of Parkinson's Disease. Six of these mutations have been
identified to guarantee this early, aggressive form of Parkinson's Disease. However, there are other genes that increase one's risk of getting the disease. That is, if you have a mutation in one of these genes, you are likelier than the average person to contract the disease. Through my research, I am looking at whether these other genes possibly interact with alpha synuclein, both the normal versions and the versions with single amino acid changes that cause this aggressive form of the disease.
Q. When did you start this research?
A. I began this project last summer with my mentor, Paul Jones '18, and we found some exciting results. This summer, I hope to be able to expand on our work to really flesh out the question further. I'm excited to see what else I can find.
Q. What does this kind of achievement mean to you?
A. I feel so lucky to have gotten this opportunity. It really is amazing that at Lake Forest College, undergraduate students can not only conduct research with professors, but also write grants and publish their work. It speaks to the collaborative and encouraging environment the College creates, where students are given the chance to take part in real science. I could never have done this without Dr. DebBurman's kind and patient guidance. I am touched that he gave me this opportunity as a sophomore. My labmates have also been in constant support of me. I will always be grateful to such a great group of friends.
— By Sangjun Hornewer '20
Related Links: