Apply for the Madeleine P. Plonsker Prize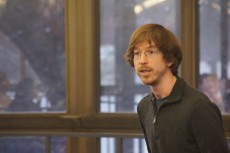 Lake Forest College invites fiction writers under forty years old to apply for prestigious residency prize.
The Plonsker Prize is on indefinite hiatus. We are not accepting manuscripts at this time.
Each spring, Lake Forest College, in conjunction with &NOW Books, sponsors an emerging writer under forty years old—with no major book publication—to spend three weeks in residence at our campus in Chicago's northern suburbs on the shore of Lake Michigan.
There are no formal teaching duties attached to the residency. Time is to be spent completing a manuscript, participating in the annual Lake Forest Literary Festival, and offering a series of public presentations.
The completed manuscript will be published (upon approval) by &NOW Books, an imprint of Lake Forest College Press, with distribution by Northwestern University Press.
The stipend is $10,000 with a housing suite and campus meals provided by the College.
For this year's competition, we are seeking a fiction writer who will spend three weeks in residence on the Lake Forest College campus during the Spring 2019 term. The final judge will be the acclaimed novelist and memoirist Lidia Yuknavitch. 
Application Guidelines for the Madeleine P. Plonsker Prize
Submit a 20- to 30-page excerpt of a manuscript in progress at Submittable.com.
The competition opens on January 1, 2018 and the deadline is March 1, 2018. The submission link will not accept submissions until January 1 of each new year.
Only the first 200 submissions will be considered, so apply early! We will close submissions once we reach 200.
Send a single file, WITHOUT your name, contact information, or other identifying marks with the following information:
1) 30 pages of a manuscript in progress
2) A one-page statement of plans for completion
3) Cover letter- Paste into the text box. Include the basic details of your cv or resume: education, employment, significant publications, etc. This information may be provided in narrative form.  
Entries will be screened by the editors of Lake Forest College Press / &NOW Books. Finalists manuscripts will be passed along to the judge, Lidia Yuknavitch, who will select the winner.
Direct inquiries to andnow@lakeforest.edu with the subject line: Plonsker Prize.
Related Links: