Alumna of summer research fellowship program published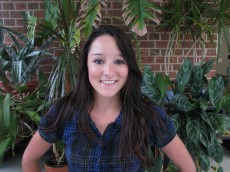 Daryn Cass '10 is credited as the first author in the article, "CB1 cannabinoid receptor stimulation during adolescence impairs the maturation of GABA function in the adult rat prefrontal cortex," published by the scientific research journal Molecular Psychiatry.
The article is based on a line of research that she began with her senior thesis in 2010 in the lab of Dr. Kuei Tseng, professor of cell and molecular pharmacology at Rosalind Franklin University of Medicine and Science (RFUMS). She continued with the study after graduation as a research assistant in the lab.
Cass's research explores the impact of CB1 cannabinoid receptor activation during adolescence on the maturation of the prefrontal cortex in rat brains. The research provides insight into the neural substrates that underlie human brain development during adolescence, and their liability to effects of cannabis use during this time.
This is Cass's ninth publication since she started working in Tseng's lab in 2008. Based on that summertime collaboration, Tseng helped to launch the Lake Forest College-RFUMS Summer Research Fellows Program in 2009, in which Cass participated. She now is pursuing her Doctor of Medicine degree at RFUMS. 
"The success I have had thus far is in large part thanks to the extensive amount of time and effort Dr. Tseng has put into teaching me the methodology and thought process that goes into scientific research," said Cass, who majored in biology and international relations. "Something he always emphasizes is that we must learn how to think critically when addressing a problem or evaluating results. This is not only valuable in terms of research but will also help me to become a better physician."
In its six years, the research fellowship program has filled a training niche for RFUMS and has offered more than 60 Lake Forest students opportunities in medical scholarship in areas such as cell biology, molecular biology, biochemistry, neuroscience, and psychology, says Professor of Biology Shubhik DebBurman.
Many of these graduates, like Cass, have become published scholars with medical school faculty in major journals such as PLoS One, Behavior and Brain Research, and Nucleic Acids Research. Alumni of the program have headed to medical school or diverse PhD programs in biology, neuroscience and psychology. Others are pursuing diverse health profession degrees in optometry, physical therapy, pharmacy, dentistry, nursing, public health, and veterinary medicine, or headed to become K-12 science teachers or for biotech/pharmacuetical careers.
"Lake Forest's unique partnership with RFUMS through the summer research program is a great example of how this unique access can provide terrific professional dividends for our talented and motivated science students," DebBurman said. "Daryn demonstrated her commitment toward her medical school goal through her passion for medical research. While almost all medical school applicants have research experience, Daryn's publication record is simply a cut above the rest. She pursued her intellectual curiosity to the highest degree and created an edge that separated her from most."  
Cass continues to sharpen her edge. In June, she won second prize in the graduate student scientific poster competition at the annual meeting of the Great Lakes Chapter of the American Society for Pharmacology and Experimental Therapeutics.
After RFUMS, Cass hopes to continue her education in a neurology or neurosurgery residency program. 
"Ultimately my goal is to be a physician scientist who can bring the element of clinical observation to the bench and address medical problems," she said.