Accessing cutting-edge neuroscience research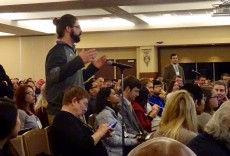 More than 90 students and recent grads learned about cutting-edge research advancements in neuroscience-related disciplines at the Society for Neuroscience 2017 Scientific Meeting held at Northwestern Memorial Hospital in Chicago.
Because Chicago is so close, Lake Forest College shuttles a contingent of students, faculty, and alums to the top neuroscience conference annually. Over the past 15 years, more than 500 Lake Forest College participants have attended the daylong program targeted primarily at the six medical schools and research universities in the Chicago area.
This year, students in five biology and neuroscience courses participated, making the 2017 Forester contingent the largest yet.
"This is our science training at its best—when our students engage, think critically, and confidently ask thoughtful questions," Professor of Biology and Neuroscience Shubhik DebBurman said. "At these meetings, our science students learn to interact and communicate professionally with scientists at all levels and from diverse types of career settings, which helps students imagine their own future possibilities."
This year, football offensive lineman and psychology and neuroscience double major Tom Steen '18—who is hoping to become a brain doctor—asked questions of world-renowned traumatic brain injury expert Ann McKee, the keynote speaker from Boston University School of Medicine. 
"This was my third time going to the conference with the group from Lake Forest, but this was a personal situation for me because I wanted to know the latest information to protect myself," Steen said. 
The biggest takeaway for Steen to attending the conference is to "get to see students—from undergraduates to post-doctoral candidates—presenting their research during poster sessions, hearing the keynote speakers who talk about their research, and knowing that, if I want to pursue research, there are hundreds and hundreds of routes I can take," Steen said. "There's a plethora of new information every year."
First-year student Sandra Campos '20 found the opportunity to hear firsthand from researchers involved in the neuroscience arena to be an eye-opening experience.
"Going into this, I thought all neuroscience research was the same," Campos said. "But listening to people present their research made me understand how wide of a field this is. And it helped me understand what aspect of neuroscience I like personally—social neuroscience—which I plan to explore further in my studies."
This summer, Steen and Campos are conducting biomedical research at Rosalind Franklin University of Medicine and Science through a partnership with Lake Forest College.
Related Links: