Access Faculty: Professor Matthew Kelley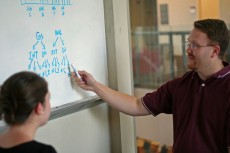 This week, the College is hosting its 12th annual Brain Awareness Week - an interdisciplinary and nationally recognized innovative academic outreach program with the overall goal to educate and engage on broad issues of Brain, Mind and Behavior.
The program first launched in 2003 and is one of the most collaborative programs on campus thanks to student organizations Nu Rho Psi, SYNAPSE, and Psi Chi, with contributions by the Neuroscience Program, the Departments of Biology, Psychology, and Theater, as well as Athletics and returning alumni.
As a professor in psychology and chair of the neuroscience program, I am very proud of the growth of both of these programs.
Psychology and neuroscience are truly bursting at the seams. Classes at every level are filled to capacity and we're offering more sections of courses than ever before. We are also pleased to welcome Dr. Jean-Marie Maddux from Johns Hopkins University who will start in January and offer courses in behavioral neuroscience, learning, research methods, and statistics.
But most of all, we are proud of the accomplishments of our students. For instance, since 2003 in psychology:
56% of our majors have gone on to graduate school;
99% of our majors are either employed or in graduate school;
60% of our majors complete an internship before graduating (an average of 25 internships a year);
Our majors routinely score in the 85th-95th percentile on their senior major exam, a standardized test given to seniors at 300+ colleges in the United States. Lake Forest students don't have to pass it, or even study for it, yet they still score extremely well!
Our neuroscience outcomes are equally impressive.
Looking to the future, psychology and neuroscience are excited about the new Johnson Science Center Renovation and Expansion, which will allow us to enhance every aspect of the student academic experience.

If you or your student is interested in learning more about these majors, please click here and here.
Sincerely,
Matthew Kelley, PhD
Professor of Psychology, Chair of Neuroscience
Related Links: