A Richter you should know: Niam Abeysiriwardena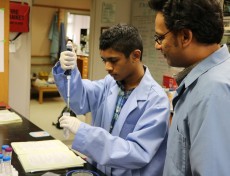 The youngest Richter scholar, 14-year-old Niam Abeysiriwardena '20 is working to help Professor of Biology Shubhik DebBurman research a unique protein that is a major factor in Parkinson's disease.
Through his work with DebBurman, Abeysiriwardena is learning the ins and outs of laboratory culture and getting to take part in finding the microscopically small causes of a large disease. This double major in neuroscience and computer science and minor in legal studies is a Richter You Should Know:
Q: What drew you to Lake Forest College?
A: "When I came here and took a few tours, I liked it for its beauty and its small size. But I also got to learn about how professors interact with their students and that really helped me in my classes because, at times, the classes are even smaller than high school classes. I was also interested in how undergraduates can conduct research during their first year. Part of my process of finding a college was finding what I wanted to major in, so I found out that Lake Forest had a neuroscience program. The neuroscience program has a long history here, so, compared to other schools around the area, this was was probably the best for neuroscience."
Q: Tell us about your research project.
A: "We are looking at the function of a protein called alpha-synuclein, which is heavily involved in Parkinson's disease. Ninety percent of the time Parkinson's disease just happens, but 10 percent of the time it's actually genetic and can be passed down. We're looking at those 10 percent of cases where we can actually look at the gene that creates alpha-synuclein. We're observing changes in the gene to see how the protein functions. Proteins are complex machines on a really tiny level that have different parts that do different things. Alpha-synuclein has parts that make it stick to the membrane outside of the cell or parts that make it float around on the inside of the cell. Sometimes the proteins can do bad things. Sometimes that bad thing is Parkinson's disease."
Q: What is the purpose of this research?
A: "We know that alpha-synuclein is really important to Parkinson's disease, but there's still a lot to be learned about that protein. If we know more about it, then maybe we can find a way to combat Parkinson's. It is fascinating to me that we get to work with these things on a such a small level that you can't even see it, yet it has such a big impact on people in real life."
Q: What have you learned about working in a lab?
A: "I haven't worked in a lab before, so I get to learn proper lab techniques. There are four people in the Richter program in Dr. D's lab and they're each doing different projects. There are also older students who have been in the lab longer and who mentor us. We're learning certain techniques and procedures from them. Once we know them, we're on our own. We're getting help, but we're learning and guiding our own project. It's cool that you did the entire process to get to your results. It's not that it just popped out of the printer or scanner. You did something to get there and your work succeeded.
Q: How will your Richter experience help prepare you for your future career?
A: "The practical experience in performing the research, learning about how labs function, and writing and presenting posters will help me gain valuable experiences needed for my career. I am interested in pursuing graduate studies, and I think it's important to learn about how to apply theories into practice sooner rather than later. This research with the Richter program allows me to get that experience."  
–By Tracy Koenn and Sophie Mucciaccio