A model scholar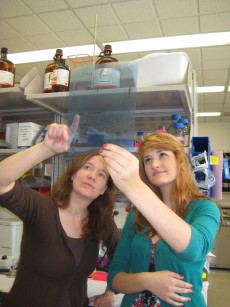 Ashley Reich '13 is listed as the second author on a paper discussing the research she conducted on the protein Drosha at Rosalind Franklin University of Medicine and Science (RFUMS).
The paper, titled "Drosha Promotes Splicing of a Pre-microRNA-like Alternative Exon," was published by PLoS Genetics. This is the second paper Reich has published while working alongside graduate student Mallory Havens in the lab of Dr. Michelle L. Hastings, associate professor in the Department of Cell Biology and Anatomy at RFUMS. Both Hastings and Havens are also listed as authors.
Reich's relationship with the two researchers began the summer after her first year at the College, when she participated in the Lake Forest College-RFUMS summer research fellows program. Professor of Biology Shubhik DebBurman says Reich is one of more than 50 science students who have benefited from this unique faculty-student collaborative research partnership between a small college and medical school in the past six years.
"Ashley Reich is a model scholar for the College's highly successful LFC-RFUMS summer research fellows program," he said. "Ashley not only did summer research, but also academic year internships with Dr. Hastings. This length and strength of access to exceptional mentoring by a medical school professor will give Ashley a true edge over peers from other schools when she applies for graduate study in a year or two."
Hastings added: "Ashley's contribution to the research in the lab has been invaluable. She has contributed at a experimental and intellectual level that is a rare quality in students at this early stage in their careers. I attribute her dedication and success in the lab in large part to her solid education and mentoring at Lake Forest College."
This most recently published research discovered "a whole new role for Drosha that could have implications on how gene expression is regulated and ultimately how our proteins get made," Reich explained.
The paper focused on two processes, alternative splicing of mRNA and microRNA biogenesis, which both have important roles in how human genes are regulated. Essentially, they revealed that an enzyme called Drosha, a component of microRNA processing, has a new mechanism of alternative splicing regulation, a previously unappreciated role that could be a key factor in the coordination and co-regulation of both processes.
Reich's senior thesis was a spinoff of some of the work she did in Hastings' lab. She presented her thesis at the 2013 Chicago Society of Neuroscience undergraduate poster competition and was awarded second place.
Reich studied biology and neuroscience at the College and was a recipient of the Ann and Steve Bartram Annual Scholarship for neuroscience. She served as the 2013 editor of Eukaryon, president of Alpha Phi Omega, and president of United Affiliate Network-American Society for Biochemistry and Molecular Biology (UAN-ASBMB), among other activities.
After graduating last May, she moved back to her hometown in northwest Arkansas, where she works as a microbiologist chemist at Tyson Foods.
News Contact
Kellie Doyle
Assistant Director of Communications and Marketing
doyle@lakeforest.edu
847-735-6177
Related Links: