A Forester you should know: Sierra Smith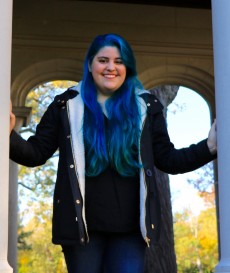 Though she's from the sunny beaches of Hawaii, Sierra Smith '17 didn't let the cold deter her when she visited campus during spring break her last year of high school—the same high school President Barack Obama attended.  
Smith knew she wanted to major in neurobiology and took AP biology and psychology to get ready for her college studies. She decided Lake Forest College was the best fit. This senior is a Forester you should know.
Q: What drew you to Lake Forest College?
A: My high school—Punahou High School, where President Obama went—has a really good college counseling program. They helped me make a list of schools that fit what I wanted: a liberal arts school with a strong science program near a big city with lots of connections for internships and real work experiences. That's Lake Forest College. I came for a visit during spring break my senior year of high school. It was cold and students weren't around, but I got to talk with science professors and see the way they do things. Everyone I talked to was so open and willing to speak with me. It seemed I would have the support I wanted here.
Q: Have you had experiences here—besides your classes—that have helped prepare you for your future career?
A: I'm a third year RA and part of a sorority, Tri Delta, which are both good leadership opportunities. In May, I started doing research in a pharmacology lab at Rosalind Franklin University, developing drugs for Alzheimer's. I run assays to help them evaluate the function of novel compounds to see if they're having the desired effects. This experience has been helpful in actually deciding what I want to do after graduation. I always thought I wanted to work in a lab, but actually working in a lab has made me want to explore other things that are similar but not limited to just the lab environment. I'm starting to look at more the molecular biology side of neuroscience. 
Q: What do you do in your free time?
A: I rest, catch up with friends, and try to get into the city as much as possible, but that's not always in my schedule because I'm so busy. In my sorority, I'm VP of chapter development, so I help with making sure we are on track for where we want to be in terms of chapter morale and discipline. I run a committee that is in place to help if we see someone struggling with anything from academics to personal issues. It's very similar to what I do as an RA, actually.
Q: What are your plans after graduation?
A: With the experience I've gained, my plan is to work in a lab for a year or two then apply to a biotechnology program for my master's. I want something that will allow me to travel and see places I've never been before, so once I figure out what that is I'll have a better plan. Another option I'm exploring is to continue being involved with my sorority after I graduate.
Q: Any advice for new students?
A: Join a bunch of clubs and choose a few that you're passionate about. Being busy with a few organizations you love is so much easier than being busy with many organizations you only partially enjoy. 
Q: Parting words?
A: Do what makes you happy—in everything. Don't do things because you think that people will expect you to do them, just focus on what makes you happy.