8th Annual Brain Awareness Week begins November 7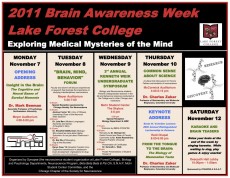 The 8th Annual Brain Awareness Week (BAW) is an innovative academic outreach program at the college with the overall goal to educate, educate, and engage on broad issues of Brain, Mind and Behavior. It will take place November 7-12 this year.
Brain Awareness Week's primarily goal is to serve the community with recent and interesting information about what is going on in a very quickly growing field. 

"It is a great opportunity for non-science majors to learn fascinating things about neuroscience," said Kristi Johnson '12, president of Synapse. "Attending the events are perfects ways to learn about the advances going on without having to take courses or read difficult articles. People hear neuroscience and think it's a complicated subject that doesn't impact them, but neuroscience is in our everyday lives."

BAW first began in 2003 and is collaboratively organized annually by students of the neuroscience student organization, Synapse, with contributions from the neuroscience program and Departments of Biology and Psychology. 
The 2011 BAW events all are open to the public. 
Upcoming Events
Monday, November 4
:

7:00 p.m.:

Brain Awareness Lecture: Angeline S. Lillard on Montessori Education

Angeline S. Lillard, PhD Professor of Psychology, University of Virginia will explain "What is Montessori Education and Why Should You Care." Join us for this stimulating discussion during the first event of Brain Awareness Week. Book signing will be held after the event. Co-sponsors: Education and Psychology Departments.

Lily Reid Holt Memorial Chapel, Middle Campus
Tuesday, November 5