4th annual Glassman Symposium largest ever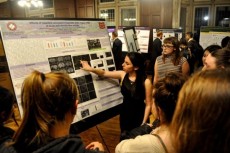 The 2016 Robert B. Glassman Memorial Brain, Mind, and Behavior Symposium will be held from 5 to 8:30 p.m. on Thursday, November 10.
The symposium is a highlight of the College's award-winning 13th annual Brain Awareness Week on campus Monday, November 7 through Saturday, November 11. The symposium is named for Robert Glassman, a former psychology professor at the College who died in the spring of 2013. 
The Glassman Symposium will begin with poster presentations by students and alumni from 5:15 to 6:45 p.m. in Calvin Durand Hall at the Mohr Student Center. A record 36 posters will be presented this year highlighting research conducted at the College and at Rosalind Franklin University of Medicine and Sciences. 
This session will include interdisciplinary faculty talks on what is a real religious experience, philosophy of the mind, detecting prion diseases, computers seeing like humans do, and the evolution of rats' responses to alcohol cues from 6:45 to 8:30 p.m. in the Lily Reid Holt Memorial Chapel.
"The highlight this year is the sheer number and diversity of student presentations—36 in total," Professor of Biology Shubhik DebBurman said.
Several Richter Scholars and First-Year students will present alongside senior thesis students and seven recent alumni co-authors who are engaged in graduate degrees at Northwestern University, University of Illinois at Chicago, Illinois Institute of Technology, Rush University, and Rosalind Franklin University of Medicine and Science.
"This is a great testimony to the opportunities we provide our science students to engage early in diverse research experiences and the success of our alumni continuing their scholarly prowess through PhD and other degree studies," DebBurman said. "The range of topics get at the heart of professor Glassman's legacy—that as a community we think deeply and broadly about how our biological mind is connected to our world." 
The Glassman Symposium, like all Brain Awareness Week events, are free and open to the public.