21 wins in 16 years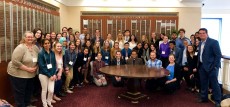 At the 2019 Chicago Society for Neuroscience (CSfN) Meeting, Abagayle King '19 won the Third Prize in the undergraduate poster competition, becoming the 21st Forester in 16 years to be recognized research at this venue since undergraduates were first recognized in 2003.
CSfN hosts the largest and oldest brain research meeting in the Midwest every year and more than 400 scientists and students attended this year on Friday, April 19, 2019 at Northwestern Memorial Hospital. Lake Forest College is a major academic sponsor of this meeting and its neuroscience program faculty have a long history of service and leadership within the professional society, which is composed of academic and industry-based scientists who are interested in the field of neuroscience. 
Its undergraduate poster session attracts top undergraduates from universities and liberal arts colleges across Illinois, Indiana, Wisconsin, Iowa and Michigan.
As the latest addition to the college's remarkable tally, King '19, neuroscience and psychology senior, presented her senior thesis research on the effects of nicotine on behavior in rodent models, mentored by Lake Forest College Assistant Professor of Psychology and Neuroscience Dr. Jean-Marie Maddux. She began her undergraduate research with Dr. Maddux at the end of her first-year as a Richter Scholar. is beginning her Doctor of Physical Therapy studies at Northwestern University this fall.

Upon winning, King reflected, "I attended CSfN every year as an undergrad. It gave me excitement for my future because I have known since freshman year that I wanted to do research, so getting the chance to see what it would be like as a professional presenting my research. The research I did for CSfN was my thesis work. This research was personally significant in teaching me the entire research process from planning and setting up an experiment to writing, defending, and presenting the research in front of other professionals in the field. The research itself is significant to outsiders because it explores one of many possible effects of chronic nicotine administration. Lake Forest College has been the key to my presentation success at CSfN. Every class I have ever taken at the college required some kind of project and presentation. I developed the skills to presenting in front of a range of audiences".
Joining King were two other seniors and past Richter Scholars who also presented their outstanding senior theses for which they too received distinction.
Yoan Ganev '19, a neuroscience and biochemistry and molecular biology major, presented Parkinson's Disease research that he has conducted in Disque D. and Carol Gram Deane Professor of Biology Dr. Shubhik DebBurman's lab for the past three years.
Eliska Mrackova '19, a neuroscience and art history major, presented her research on stress and anxiety conducted for the past two years under the mentorship of Associate Professor of Cell and Molecular Pharmacology Dr. Amiel Rosenkranz at Rosalind Franklin University of Medicine and Science.
An annual tradition for over 15 years, 55 Lake Forest College students attended the meeting at Northwestern Memorial Hospital, among with five faculty, including DebBurman, Maddux, Lecturer in Neuroscience Dr. Ryan Selleck, Assistant Professor of Biology Dr. Margot Schwalbe, and Associate Professor of Psychology Dr. Naomi Wentworth. Each of the professors connected the curricula of their courses to the latest cutting cutting scientific biomedical advances, these courses ranging from first-year to senior seminar.
In attendance were fifteen first-year Lake Forest College students experiencing their first-ever scientific conference.
Margaret Kersting '22 shared, "As a first-year student, I think the most valuable thing gained from attending CSfN was exposure to the professional, scientific atmosphere. I think it is very important for young, first-year, aspiring scientists to be exposed to real presentations of research; I think it gives us an easy pathway to envision our possible futures."
Jessica Day '22 agreed, "The conference strengthened my learning as I was able to see how concepts I was learning in class directly connected to new and exciting research in the field of neuroscience. First-year students should definitely be encouraged to attend conferences such as CSfN because seeing and learning from others presenting their research will light the spark of interest in young minds that are the future of the scientific community."
Twenty Lake Forest College graduates have previously won awards for undergraduate research at the conference since 2003. DebBurman believes that the remarkably consistency with which the college's science students continue to shine for their research communication at professional venues is the product of the science curriculum. He emphasizes that faculty instill scholarly inquiry and a high level of professionalism through course work and research mentoring. "We are all deeply motivated to train our students to think and work like scientists and be best prepared to become members and leaders of the biomedical community," he said. "To witness our students receiving accolades, year after year, for their scientific discoveries at professional conferences like CSfN is simply the icing on the cake." 
The past winners are:
2018
Sarah Applebey '18, 2nd Prize, is currently pursuing a post-baccalaureate research in behavioral neuroscience at the National Institutes of Health as an Intramural Research Training Award (IRTA) fellow.
Rosemary Thomas '18, 3rd Prize, is a medical school applicant this year.
2016
Morgan Marshall '16, 1st Prize, is completing her Masters degree in biomedical Communication at University of Illinois at Chicago.
2015
Josephine Masandika '16, 2nd Prize, is pursuing a Masters degree in Biomedical Engineering at the University of Illinois at Chicago.
Alexandra Roman '16, 3rd Prize, is pursuing a MD degree at the Medical College of Wisconsin.
2014
Maiwase Tembo '15, 3rd Prize, PhD student in life sciences at the University of Pittsburgh.
2013
Ashley Reich '13, 2nd Prize, is currently working as a national sales manager with Dexshell Inc.
Natalie Kukulka '13, 3rd Prize, completed her MD studies at the University of Missouri (Columbia).
2012
Sydni Cole '12, 1st Prize, is an MD neurology resident at Harvard University's Beth Israel Hospital.
2011
Madhavi Senagolage '12, 2nd Prize, is a PhD candidate in biology at Northwestern University.
2010
Derek Atchley '10, 3rd Prize, is a PhD candidate in cognitive and behavioral neuroscience at Wayne State University.
2009
Michael Fiske '10, 1st Prize, is a PhD student in neuroscience at Northwestern University.
Ray Choi '09, 3rd Prize, completed his MD from University of Colorado and is an anesthesiology resident at Rush Presbyterian Hospital.
2008
Stephanie Valtierra '08, 2nd Prize, received her PhD in neuroscience at Northwestern University and is currently the Science and Health Care Pathway Leader at Lake Forest College's Career Advancement Center.
Alexandra Ayala '09, Honorable Mention, is a math and science teacher for Teach for America.
2007
Michael White '07, 2nd Prize, MD 2012, completed a neuro-oncology fellowship at Massachusetts General Hospital and Harvard Medical School's Dana Farber Cancer Center and will join its faculty this summer.
2006
Michael Zorniak '07, 3rd Prize, PhD in neuroscience at University of Wisconsin-Madison, and current Medical Liaison with Norvartis Pharmaceuticals.
2005
Arun Paul '05, 1st Prize, MD 2012/PhD 2010, RFUMS. He is currently an assistant professor at the University of Alabama-Birmingham.
David Mann '05, 3rd Prize, MD (2009, Ross), is now a physician in the Chicago area.
2004
Isaac Holmes '05, 1st Prize, MD (2009) and Residency at Rush Medical College; currently physician at Bellevue Hospital (New York) and on the faculty at New York University.
2003
Jillian Hibler '04, 2nd Prize, DVM 2007, Washington State University.
Nijee Sharma '04, co-3rd prize, MD (2011/PhD 2009) Loyola; MD residency in neurology at University of California Davis; Assistant Professor in the department of Neurology at the University of California (San Francisco).
Brandon Johnson '03, co-3rd prize, PhD (received 2010) and Postdoctoral fellowship, Stanford University; Founder and Director of Cognitive Advantage (Palo Alto, CA). Currently on the faculty at Hawaii Pacific University.